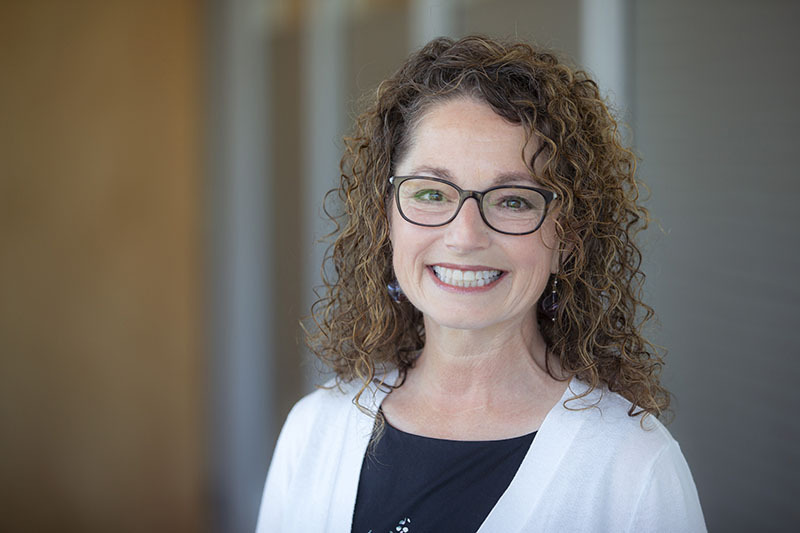 Alumna Karen Kerns is midway through a three-year, half-time appointment to guide President Wendy Wintersteen's entrepreneurship and innovation initiative. Student entrepreneurs, the focus of the initiative, will be showcased in ISU's state fair exhibit (Aug. 8-18, Varied Industries Building).
The basics
Name: Karen Kerns
Position: Entrepreneur in residence, a three-year presidential appointment
Time in position: 1.5 years
Other positions: Chair, ISU Agricultural Entrepreneurship Initiative; CEO, Kerns and Associates production agriculture consultants
What's your assignment?
I work across the entire university and with the deans, the president and key leaders to understand and develop the culture of entrepreneurship as it relates to mindset, entrepreneurial skills and behaviors, and traditional entrepreneurship [startup businesses]. I'm doing this in conjunction with some well-established efforts already on this campus.
Iowa State students are exceptional when it comes to technical competency -- they are great performers and skilled -- but if you look at data from employers and student confidence in terms of preparedness, they struggle with what we've termed behavioral capacity. It's moving from a transactional mentality -- give me this for that -- to a stewardship mentality where everyone benefits through a culture of contribution, engagement and return.
How do you define entrepreneurship and innovation?
The criteria for entrepreneurship are risk, capitalization, investment and utilizing business concepts to create. For Iowa State, we consider value that extends beyond financial capital -- we're looking at human capital, community welfare and revitalization, and thought leadership that changes culture. We focus on four quadrants of entrepreneurship: traditional product- and service-based startup business entrepreneurship; intrapreneurship that helps students innnovate within companies; civic innovation that allows students to make an immediate difference in their communities; and social entrepreneurship, which is thought leadership and advocacy.
Innovation is a necessary component of entrepreneurship. Innovation refers to the capacity to create something novel -- to look at a problem, see a gap and provide a solution. But it doesn't necessarily translate to economic or social value. The difference between innovation and entrepreneurship is that entrepreneurship is deliverable-oriented and outcome-based. Innovation has to have a context in order to have value.
How do you sell entrepreneurship and innovation to students?
This is a significant opportunity to provide resources that help them impact and contribute to not just the economy, but also to Iowa State. We're asking students to participate in a different way. To contribute while they're here. We're telling them they have the capacity to innovate and entrepreneur their experience at Iowa State.
Our deans have been innovative, leading their colleges in conversations and initiatives resulting in unique approaches for curriculum and student experiences. They have embraced it and found it revitalizing. During this first 18 months of mapping and planning what entrepreneurship looks like for Iowa State, the most surprising discovery has been the number and scope of students, faculty and staff currently engaged in entrepreneurial programs and projects. Many colleges already have formalized programs and are working with thousands of students on business startups or new product or service design.
What skills do you use as entrepreneur in residence?
One of the hardest things in my job is to not impose an agenda. I have certifications in internal family systems therapy and spiritual direction which are very critical to what I do. I've spent the last 10 years doing a lot of research on how our brains process information, why we process things the way we do -- what are the limitations and what inhibits us from innovating, creating, moving forward and healing. That knowledge allows me to help create conversations that are secure and trusting for a broad base of participants. Resistant stakeholders are my favorite because they protect us, are rigorous in investigating gaps and are an important part in clarifying what we're doing and why we're doing it.
What can visitors expect at ISU's entrepreneurship-themed state fair exhibit?
They will walk away with an experience of what it's like to participate with students who are creating, innovating and entrepreneuring. They will be able to see it, hear it and participate by giving us their vote. Experience trumps belief. We are putting our money where our mouth is, showing Iowans that their investment in Iowa State is fostering and launching exceptionally innovative young people who will go on to create economic opportunities wherever they settle. We want to show participants that our students are phenomenally and technically competent, but they're not just satisfied with ideas and education -- they're turning their education into outcomes and impact.