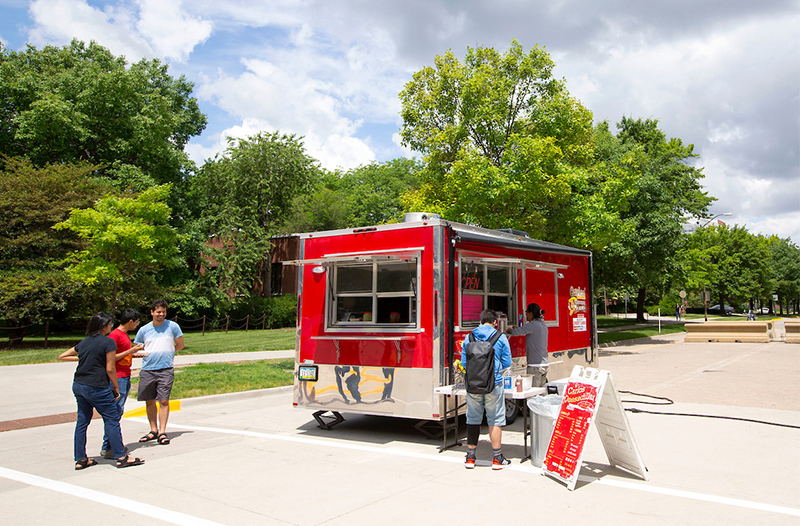 Your usual coffee or sandwich stop may be shuttered for the summer, but plenty of campus food and beverage locations remain open. Take your pick from among eight cafes, the food court in the Memorial Union, a handful of food trucks, convenience stores and a dining center when you want to stay on campus.
All facilities are closed by 5 p.m. on weekdays, with the exception of ISU Dining's designated dining center, which serves dinner from 4:30 to 7 p.m. Throughout new student orientation, the Marketplace in the Union Drive Community Center served in that role; on June 29, the assignment switches to Friley Windows.
With the exception of Friley Windows and the MU Market and Cafe, which have Saturday hours during July and August, facilities generally are closed on weekends.
ISU Dining assistant director of engagement Karen Rodekamp said ISU Dining staff use the less-hectic summer months to deep-clean facilities and perform equipment maintenance. She said a majority of the department's recipe testing and menu development occurs this time of year. Chefs have finalized about 150 new recipes so far this summer for the dining centers and also are experimenting with sushi for limited service this fall.
Consult ISU Dining's hours website before you head out. Food truck vendors generally serve between 11 a.m. and 2 p.m., as the weather allows. Three of the current contracted food trucks are on a summer hiatus: Brick City Grill, Dinkey's and Taza Mediterranean Grill.
Food trucks
West of Kildee Hall: Carlos' Quesadillas, Finley's Curbside Beastro, Indian Delights (summer relocation due to Bissel Road reconstruction)
Beardshear/Carver plaza: Cheese Steak Factory, Macubana
Dining centers
Food court, Memorial Union
Marketplace, Union Drive Community Center (through June 28)
Friley Windows (June 29-Aug. 9)
Seasons, Maple-Willow-Larch commons (through lunch June 27, reopens Aug. 10)
Cafes
Bookends, Parks Library
Clyde's, Union Drive Community Center (breakfast, lunch)
Courtyard Cafe, Lagomarcino
Gentle Doctor Cafe, Vet Med
Hawthorn Market and Cafe, Frederiksen Court
Heaping Plato, The Hub (lunch)
Lance and Ellie's, Memorial Union (lunch)
MU Market and Cafe, Memorial Union
Roasterie, The Hub
Convenience stores
East Side Market, Maple-Willow-Larch commons (through June 28)
MU Market and Cafe, Memorial Union
West Side Market, Union Drive Community Center