Iowa State junior Zack Leist ("leest") has been appointed to the state Board of Regents by Gov. Kim Reynolds, pending confirmation by the Iowa Senate next winter. He began his service Tuesday at the board meeting in Ames.
"It is a great honor to be asked to serve as a regent," Leist said. "I know this is a big responsibility, and I will do the best I can to learn and serve on the board. I hope that I can use my knowledge and skills to best represent students from Iowa State, Iowa and UNI.
"I am looking forward to this exciting opportunity," he added.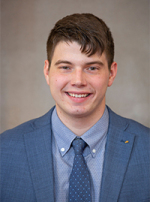 The Clarion native is majoring in agricultural business with a minor in agronomy. He is involved in a variety of campus activities, including Agricultural Business Club, Iowa Corn Growers Club, Collegiate Cattlemen's Club, Alpha Gamma Rho fraternity and CALS Ambassadors. He also has completed several study abroad trips. Leist currently works as an intern at Syngenta, a global ag research and development company.
"We welcome regent Leist to the board and we look forward to working with him and getting his views on issues that come before the board," said board president Mike Richards. "The perspective of a current student is critical as we continue to strive to provide a top-quality education to our students."
Leist fills the unexpired term of former University of Northern Iowa student Rachael Johnson, who served four years and resigned in March. Leist's term on the board expires April 30, 2021.
The board of regents first added a student regent to its membership in 1985. Leist is the 11th student regent and the fifth undergraduate from Iowa State.