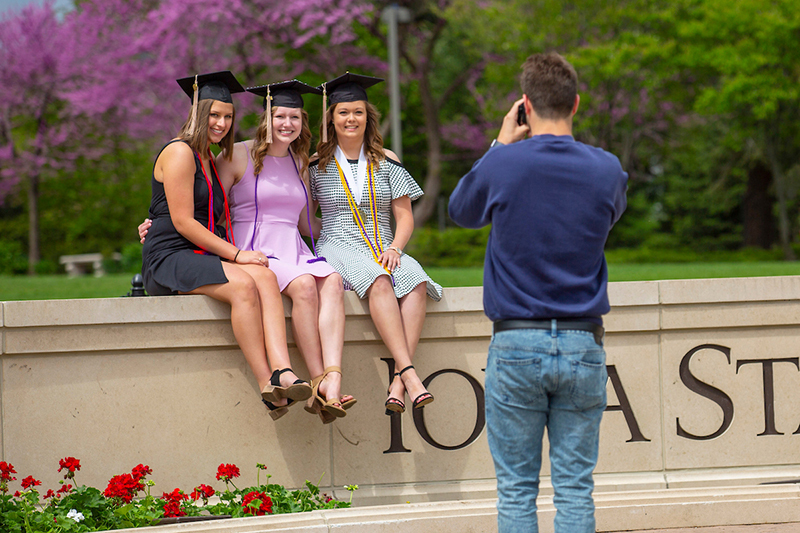 An estimated 5,339 students are completing their Iowa State degrees this semester, and many of them will celebrate the milestone during commencement events this week. The class of 2019 should surpass last spring's record-setting 5,002 degree recipients and, in part, reflects fall enrollments from 2013 to 2015 that grew by 1,200 to 2,000 students annually.
President Wendy Wintersteen will provide opening remarks at the university's four commencement ceremonies, all of which will be livestreamed for those unable to attend. Tickets are not required for any graduation events.
As of this week, 4,524 students were on track to receive bachelor's degrees at one of two undergraduate ceremonies Saturday, May 11, in Hilton Coliseum.
The first begins at 9:30 a.m. to honor students from the colleges of Agriculture and Life Sciences, Business, and Liberal Arts and Sciences. Robert Easter, president emeritus and professor emeritus of animal science at the University of Illinois, Urbana-Champaign, is receiving an honorary Doctor of Science degree from Iowa State and will give the keynote address. Easter was an Illinois faculty member and administrator from 1976 to 2015. His expertise is in pig nutrition, and he worked with ISU leaders to elevate publicly funded research in food, agriculture and natural resources as a national priority. Faculty in the animal science department nominated Easter for the honorary degree.
The second undergraduate ceremony begins at 3 p.m. Saturday to honor students from the colleges of Design, Engineering and Human Sciences. Bass-baritone vocalist Simon Estes, since 2000 the music and theatre department's F. Wendell Miller Distinguished Artist-in-Residence, will address the graduates. A Centerville native and grandson of a former slave, Estes is one of the most accomplished opera singers in the world, with more than 100 lead operatic roles to his credit. He also is known for international fundraising efforts on behalf of children, for college scholarships, music instruction, and campaigns to combat malaria and HIV/AIDS.
Graduate, Veterinary Medicine ceremonies
The Graduate College ceremony begins at 7 p.m. Thursday, May 9, in Hilton Coliseum. An estimated 533 master's candidates and 132 doctoral candidates will be honored.

Debra Stewart, a senior fellow at NORC (originally National Opinion Research Center) at the University of Chicago and president emerita of the Council of Graduate Schools, will address the graduates. NORC is one of the country's largest independent social research organizations, and Stewart advises its Higher Education Analytics Center. She served as president of the Washington, D.C.-based council (2000-14) and Graduate School dean (1988-2000) at North Carolina State University, Raleigh, adding vice provost (1995-98) and vice chancellor (1998-2000) duties at NC State. With her leadership, the council launched a series of projects to strengthen universities' capacity to better prepare graduate students for the 21st century.

The ceremony for 150 Doctor of Veterinary Medicine candidates begins at 12:30 p.m. Saturday in Stephens Auditorium. Alumnus and veterinary pathologist Vincent Meador will address the new veterinary doctors. An Ames High graduate, Meador earned four degrees at Iowa State: bachelor's in bacteriology (1977), DVM (1981), and master's (1986) and doctoral (1988) degrees in veterinary pathology. He operates a drug development and pathology consulting company and has a major role in establishing a drug development laboratory in Shanghai.
Full commencement program available via app
The university will print its traditional commencement program for graduating students and ceremony stage officials and share it with family members and guests through a new graduation tile on the ISU Alumni Association's app for mobile devices.
Registrar Mark Simpson said the change was made to be green, save money and reduce waste. He said the university printed about 10,000 fewer 140-page commencement programs this spring. A trifold abbreviated program that outlines the ceremony and includes a message from Wintersteen will be available for guests at all four ceremonies.
"A lot of institutions are looking to do an electronic version of their commencement program," Simpson said. "We think students are going to be excited about this option, which really meets them where they are."
The app is a free download in the iTunes and Google Play stores. The graduation tile does not require an alumni association membership to use its features (other features on the app do). The alumni association, which built the tile following a bid process, offers user instructions in a one-minute video. Users should download the app before they enter Hilton or Stephens; once they are indoors, the app uses offline capabilities to avoid connectivity issues.
Simpson said the full program (PDF) will be posted on the registrar's website, and his office will hold about 200 printed copies. Contact the registrar's office, 294-1840, to request one.
Other graduation events
The university's Lavender Graduation, which honors graduating members of the Iowa State lesbian, gay, bisexual, transgender, queer, intersex, asexual and ally community, will be held from 3 to 5 p.m. Thursday, May 9, in the Memorial Union Sun Room.
Colleges also will honor their graduates during informal convocations or receptions Friday and Saturday.
College events for undergraduates
| | | |
| --- | --- | --- |
| College | Day and time | Location |
| | Friday, 10 a.m. | Hilton Coliseum |
| | Friday, 1 p.m. | Hilton Coliseum |
| | Friday, 4 p.m. | Hilton Coliseum |
| | Friday, 7 p.m. | Hilton Coliseum |
| | Saturday, 9 a.m. | Stephens Auditorium |
| Engineering (by department) | Saturday, between 9 a.m. and 2 p.m. | Multiple locations |