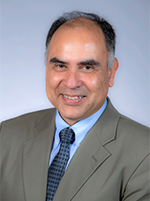 College of Design dean Luis Rico-Gutierrez has been appointed to a third five-year term, through 2024, senior vice president and provost Jonathan Wickert announced.
During his second term, Rico-Gutierrez continued to grow the college's national and international reputation; streamlined and integrated its existing degree and research programs; launched new collaborations across campus; and enhanced diversity, equity and inclusion.
"Luis is a tireless advocate for students, faculty and staff, and he continues to position the College of Design as one of the nation's top and most interdisciplinary programs," Wickert said. "I look forward to continued collaboration and success over the next five years."
Rico-Gutierrez, a professor of architecture who is professionally accredited in Mexico and Spain, served as associate dean of Carnegie Mellon's College of Fine Arts and associate head of its School of Architecture before coming to Iowa State in 2009.
"It is an honor to be reappointed as dean," Rico-Gutierrez said. "I look forward to continuing to work with students and colleagues to demonstrate the power of design through innovation and creativity, advance quality of life conditions for communities around the world, and serve as a resource for citizens and communities in Iowa and beyond."
Wickert expressed thanks to the 10 members of the college's Dean Administrative Review Committee, which managed the comprehensive process. The group's co-chairs were Jane Rongerude, associate professor of community and regional planning; and Bambi Yost, associate professor of landscape architecture. Additional members were:
Diane Al Shihabi, interior design
Jelena Bogdanovic, architecture
Paula Curran, graphic design
Tim Day, biomedical sciences
Lisa Fontaine, graphic design
Steve Herrnstadt, industrial design
April Katz, art and visual culture
Amy Logan, college administration
Wickert also noted his appreciation to faculty and staff in the college who participated in the review process by completing an electronic survey or contacting a member of the review committee.