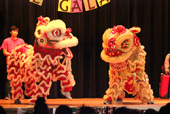 Fashion, performance and food all can tell a story, and that is the goal of the 14th annual Global Gala on March 29.
Friday's multicultural celebration provides an opportunity to learn about Iowa State student organizations that represent cultures from around the world. They will share their heritage in a fun atmosphere open to the public.
"It is a great way for Iowa State to showcase different kind of cultures and heritage," said sophomore Diego Bonilla, multicultural awareness co-director for the Student Union Board. "I think it is important to be able to show some of the cultures represented on campus at Iowa State."
Bonilla said organizations will use a variety of ways to showcase their cultural diversity, including music, dance and clothing. The Pakistan Student Association, Descarga Latin Dance Club, Motion Sickness Dance Team and Brazilian Student Organization are a few of the participating organizations.
"This is just a cool event people can enjoy and learn from," Bonilla said.
The menu will feature food from different parts of the world, including vegetarian and gluten-free options. Bonilla said a large map will allow attendees to "pin" their home country.
Doors to the Memorial Union Great Hall open at 6 p.m. and the program begins at 7 p.m. Admission is free and open to the public.