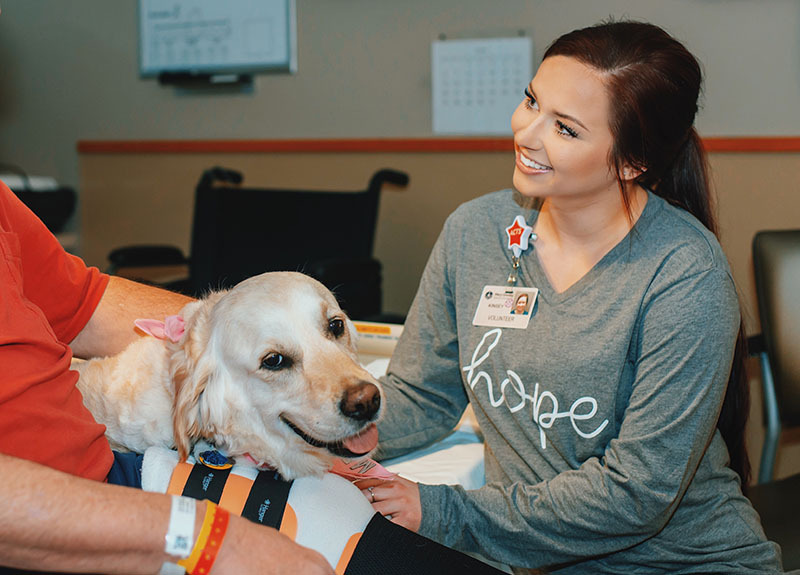 Michael Newton is passionate about mental health. As associate vice president for public safety and chief of police, it's something he sees as a growing issue on campuses nationwide.
"Our students are at the prime age for the initial onset of many forms of mental illness. This, along with the pressures that exist, can lead to them needing mental health resources," Newton said.
ISU Police responded to 287 welfare check requests in 2018, a number Newton said is contributing to a rise in service calls related to mental health. In response, Newton added a full-time mental health advocate to his staff. Kinsey Phillips will step into the newly created role on March 25. Phillips will work with all campus populations, not just students.
Phillips, a 2017 Iowa State graduate, returns to her alma mater after serving as a psychiatric assistant at Mary Greeley Medical Center (MGMC) in Ames. She also provides certified pet therapy in partnership with the Ames Police Department and MGMC with her dog, Zosia.
Filling a need
Newton said he created the mental health advocate position to assist officers on calls, evaluate and assess service needs, provide resources, and serve as a liaison to the campus community and area mental health partners.
"Police officers aren't always best equipped to deal with all of these situations," Newton said. "Getting somebody who's specially trained and really has focused on mental health was important. The advocate will follow up on mental health cases to make sure we've done all the things we needed to do and determine if there are things we can do better."
Newton also signed on to the One Mind Campaign, an initiative of the International Association of Chiefs of Police to bring three populations -- communities, public safety organizations and mental health agencies -- together with one focus. He said the advocate will help his department meet the objectives of the campaign, which include training officers in crisis intervention (30 percent already are, exceeding the 20 percent minimum) and departmentwide certification in mental health first aid.
"Our calls for service the past three years continue to rise when it comes to welfare checks and mental health. This position will integrate with a lot of resources on campus and answers an increasing need campuswide," Newton said.