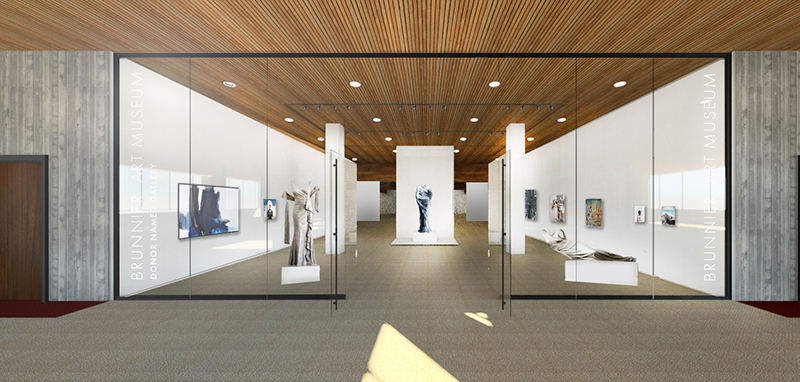 Demolition has begun quietly on the east side of the Scheman Building's top floor, but following a Feb. 28 reception for donors, the Brunnier Art Museum entrance will be encased in plywood and a five-month renovation will take off.
The $1.95 million project will:
Install a glass wall entrance for the museum onto the Scheman second-floor atrium
Create space for an 1,800-square-foot front gallery
Purchase a space-conserving storage system for the museum's collection vault
Replace the heating/cooling system, to protect the collection and keep visitors and staff more comfortable
Consolidate staff offices on the north side of the museum
University museums director Lynette Pohlman said the storage vault should be useable by the end of May. The rest of the renovation is slated for completion around Aug. 1, giving staff several weeks to move back in and install fall exhibitions. An opening reception is scheduled for Sept. 19.
Pohlman speaks with enthusiasm about the additional front-and-center exhibition gallery, which will be named in memory of alumna Lori Jacobson, a Roland native who interned in university museums in the late 1970s as an undergraduate and went on to a career in museum management. Pohlman said the compact storage system will significantly reduce the staff time needed -- from hours to minutes -- to retrieve pieces from the 20,000-piece Brunnier Museum collection. It also will create 30 percent more storage space on the same footprint.
Funding for the project includes $1.2 million in private gifts and $600,000 from university museums' unrestricted Fund for Excellence. The heating/cooling component will be covered with $170,000 from the university's Facilities Overhead Use fund.
Museums staff have relocated to temporary spaces around campus, but their phone numbers and email addresses remain the same.
The Brunnier hasn't had public exhibitions since January 2018, but staff continue to provide pieces from the collection for classes and research projects. Fundraising and project planning also continued during this time. University museums' other indoor museums, Farm House Museum and Christian Petersen Art Museum in Morrill Hall, remain open.