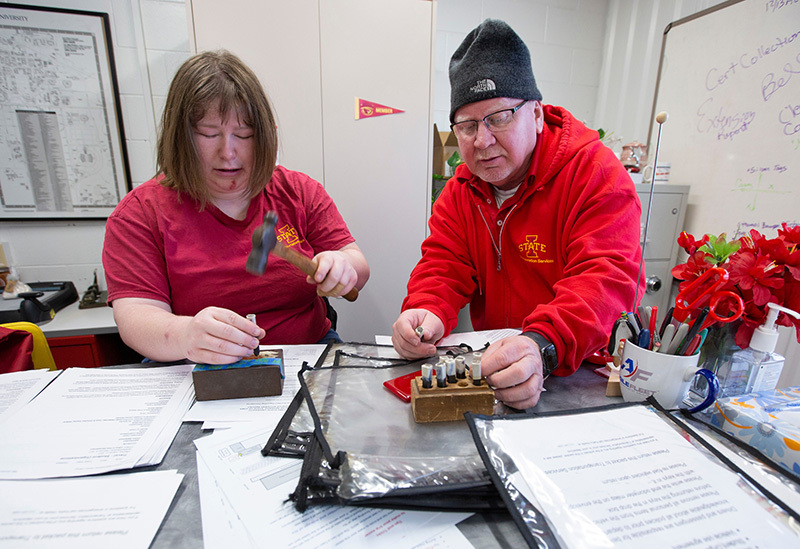 Project SEARCH expanded its reach across campus this fall, and that may just be the beginning for a program that provides valuable work experience to people with disabilities.
The program began in the fall of 2016 in the College of Human Sciences through a partnership with The Arc of Story County, a nonprofit organization that supports individuals with intellectual and developmental disabilities. Four interns were selected each of the first two years, increasing to 10 this fall in an expansion campuswide. Fourteen spots will be available to start next school year.
Get involved
If you have an internship idea for Project SEARCH, contact Linda Lind at 294-2657 or 230-5266.
This year's interns rotate through various jobs at 15 sites on campus, including transportation services, athletics department, Parks Library, Ivy College of Business, Joan Bice Underwood Tearoom and central stores.
The intent is to give each intern, who range in age from 18 to 30, a variety of skills that can be useful in gaining employment. The program runs from August through April with interns working at three sites during that time.
"The biggest thing that we are hearing is it has changed the environment and culture at each one of these units," said Linda Lind, senior lecturer in the School of Education and Project SEARCH faculty liaison. "These people are making such a big change, and it is heartwarming."
Growing Project SEARCH
Lind said support from the office of the president allowed Project SEARCH to grow beyond the College of Human Sciences. A limited number of people leading interns in just one college was putting too much strain on departments to keep up with each rotation.
"I told administration that we were running up against some obstacles, and the next day they called me back and told me to start contacting places across campus to expand the program," she said.
Lind received a "tremendous" response and followed up by going from department to department giving informational presentations.
"I told them what Project SEARCH was, what their expectations would be as an internship site and that I am here to provide support.
"These are skills that need instruction and each site provides support," Lind said. "The sites need to be willing to work hand-in-hand with the interns and not be afraid to give them complex tasks."
The internships also provide opportunities to develop social skills and improve the interns' everyday lives. The goal is to have 80 percent of interns employed after completing the program.
On-the-job experience
Transportation services is in its first year with Project SEARCH, with each of its three interns performing a variety of tasks.
"Everything from basic automotive needs like vacuuming and cleaning the interiors, checking oil and washing vehicles," said Butch Hansen, transportation services shop manager. "We are pretty much paperless now so we have a lot of data to enter into the computer, and I had one intern do a complete inventory of vehicles with me to determine which ones would go to sale at auction and which ones wouldn't."
Like any new employee, the interns are shown the system and taught the methods with follow up until they have a comfort level with their assignment. Along with physical tasks, Hansen said interns develop soft skills that can be put to use in any work environment.
The interns' willingness to take on any task is a lesson that everyone can learn from, and one of the biggest reasons Hansen wanted to get involved.
"It is something I truly believe in, and I try to do business with businesses that will hire people from Project SEARCH," Hansen said. "Personally, I am not surprised with what they do, I just don't think they are often given much of a chance."
Business summit
Project SEARCH will host a business summit March 1 (8 a.m.-noon, Jacobson Athletic Building) to make the Ames community and surrounding areas aware of skills the interns have acquired, and how they align with jobs businesses are looking to fill.
"We are keeping it small this year with a goal of making it a two-day convention next year," Lind said. "I would like to have 40 employers this year."