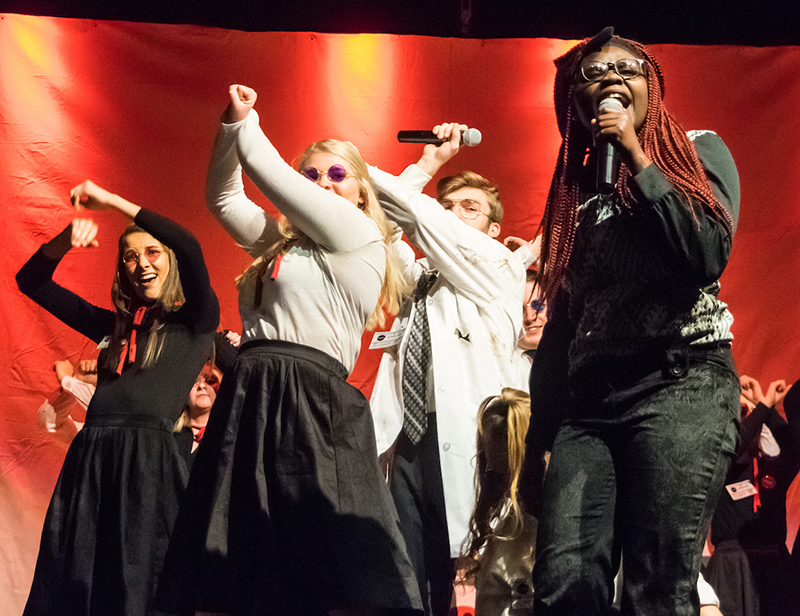 Following four months of creative planning and rehearsing, it's go-time for Iowa State student groups competing in Varieties, the university's annual student talent show. Semifinal performances will be held Friday-Saturday, Feb. 8-9, in the Memorial Union. Performances begin at 7 p.m. in the Great Hall; doors open at 6:30 p.m.
The Varieties format includes 20-minute mini-musicals involving several dozen actors and original song lyrics and choreography, separated by shorter performances -- solo or small group -- featuring talents such as comedy, magic, dance or instrumental music. Student emcees will introduce all of the acts, although Varieties' third competition -- among emcees -- was removed. "Tradition Lives On" is the 2019 theme students try to weave into their performances.
Two student groups will perform their mini-musicals Friday evening and three at Saturday's semifinal show. All five move on to finals. Five vignette acts will perform Friday and four on Saturday, with just four advancing to finals.
Tickets, $10 for the public and $6 for ISU students, are available through Midwestix or at the Maintenance Shop box office (11 a.m.-5 p.m. weekdays) on the MU ground floor.
Finals in two weeks
Two "finals" performances will be held Friday-Saturday, Feb. 22-23 (7 p.m.), also in the MU Great Hall. Judges will use a cumulative points system across all four Varieties performances, and winners will be crowned after the Saturday performance based on total points. Finals tickets are $12 for the public and $8 for ISU students, also via Midwestix or the M-Shop box office.