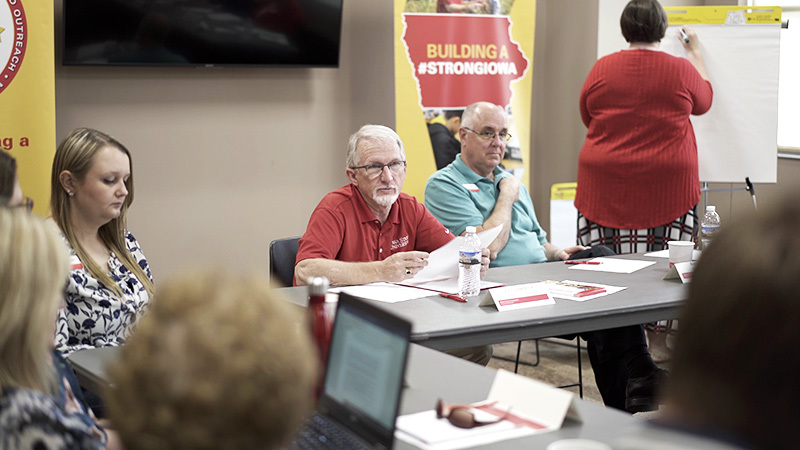 John Lawrence, vice president for ISU Extension and Outreach, did not waste any time getting to work when he assumed his responsibilities after serving in an interim role the previous year. Lawrence toured the state through a series of meetings to listen to issues and concerns and learn how extension can best serve Iowa.
Lawrence, who began his role as vice president last March, traveled over the summer and into October, with a total of 60 meetings, 1,200 people met and 4,000 miles traveled.
"It is not a new concept, but it had been a while since we had done a listening tour of sorts," Lawrence said. "This was a time to be intentional. We purposely invited people in, and not just whoever shows up, to take a snapshot of Iowa's needs and where we are relative to their needs.
"So as we look forward, where should we be putting resources, how do we support our staff and are we doing the things that are valued by Iowans. If not, what kind of course corrections do we need to be thinking about?" he said.
Asking the right questions
Extension and outreach divides the state into 20 regions and Lawrence visited each. Three groups of people came to the meetings: stakeholders/partners, staff and representatives from extension and outreach councils.
The meetings centered around three questions:
What are the top issues impacting the ability of this region to thrive?
What do you need from extension and outreach to address those issues?
Who else should extension and outreach be talking to?
Lawrence said workforce, housing, child care, mental health and the farm economy were near or at the top of issues at nearly every stop.
Starting at home
Communication within extension and outreach is an area Lawrence is out to improve. The division has approximately 890 full-time equivalent employees about 430 on the Iowa State campus and approximately 460 throughout the state.
"In an organization this size, invariably some people will hear things that others do not," Lawrence said. "It raises questions about how best to communicate."
An internal communications task force has been formed to address those issues, with recommendations expected in March.
There also is the issue of budgets, which include county, state and federal funds. Lawrence said because funding has been in decline for a couple of decades, there is concern about the impact on extension and outreach and what changes are necessary. He also learned not everyone is aware of everything extension and outreach does, so getting information to people in need is necessary.
Structured for success
In September, Lawrence appointed the Structured for Success committee to begin a yearlong process to study how extension and outreach is organized at the county, region and state levels. Trying to determine what successful counties are doing and how they are doing it is one aspect, as well as looking at how other states operate their extension service.
The 10-person committee includes Lawrence, assistant vice president for extension and outreach county services Bob Dodds, Iowa extension council association executive director Terry Maloy, three county directors, two county council members, a regional director and field specialist.
There are a variety of resources and budgetary constraints from county to county, but the goal of the committee is to recommend two to four organizational structures that could be used to help remedy issues and better serve Iowans.
"That will allow us to begin a discussion of 'Do you think your best situation is as you are organized now or would you like to try something different?'" Lawrence said. "If so, this is what the committee has learned and let's start a discussion about changing. It probably won't address everything at once, but with some of these things coming together later this year, we hope to experiment with some pilot projects. Organizational things like budget, communication, structure and how we most effectively address the needs of Iowans."
An example would be for county extension offices to pool their resources to improve service or have joint meetings instead of separate ones that attract few people.
A decade since last big changes
The last major change for local extension and outreach occurred in 2009 when the county director position -- Iowa State employees -- were eliminated and elected councils were given more responsibilities. With any action that may occur in the future, Lawrence wants to ensure it is as smooth as possible.
"We want to work on common problems, but act more like a team or more like a family," he said.