An estimated 2,319 Iowa State students are completing their degrees this month, and many of them will participate in commencement ceremonies this weekend.
Fall ceremonies
Graduates: Friday, 7 p.m., Hilton Coliseum
Undergraduates: Saturday, 1:30 p.m., Hilton Coliseum
The fall 2018 graduating class includes an anticipated 1,957 bachelor's, 241 master's and 121 doctoral students.
For the second straight year the university will hold a pair of graduation ceremonies. The Graduate College ceremony is at 7 p.m., Friday, Dec. 14, and the undergraduate ceremony begins at 1:30 p.m., Saturday, Dec. 15. Both events will take place in Hilton Coliseum. Tickets not needed to attend.
Graduate speaker: James McShay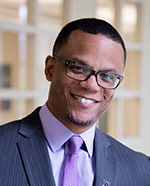 James McShay, an Iowa State alumnus and, since June, the assistant chancellor for equity and inclusion at the University of Washington, Tacoma, will give the Graduate College address. He oversees the Center for Equity and Inclusion and leads initiatives, programs and research efforts that foster a culture of equity, inclusion and success for students, faculty and staff.
McShay was a faculty member in multicultural and international curriculum studies and director of undergraduate education for the department of curriculum and instruction while at Iowa State. He also earned a master's in education (1996) and a doctorate in education (curriculum and instruction, 2000) from Iowa State.
McShay worked at Iowa State for eight years before going to the University of Maryland in 2009. The New York City native received his undergraduate degree from State University of New York, Oswego.
Undergraduate speaker: Theaster Gates
Iowa State will award an Honorary Doctor of Humane Letters to alumnus Theaster Gates for accomplishments in visual arts and urban revitalization. Gates is professor of visual arts at the University of Chicago and will address the students.
Gates directs the university's arts and public life initiative. He has had 30 solo exhibitions in the past decade, participated in more than 50 group shows and received numerous awards for his work. Notably, Gates won the inaugural Kennedy Center Award for the Human Spirit (2016); the Artes Mundi 6 prize (2015) presented by an internationally focused arts organization; the Nasher Prize for Sculpture (2018), which is dedicated exclusively to contemporary sculpture; and the Legion d'Honneur (2017), France's highest order of merit.
Among Gates' work is the Rebuild Foundation. Gates created the foundation in 2009 to manage redevelopment and affordable-space initiatives in the under-resourced Greater Grand Crossing neighborhood of Chicago.
Gates earned a bachelor's degree in community and regional planning and a master's degree in interdisciplinary graduate studies, with a focus on planning, religious studies and public sculpture, both from Iowa State. He also holds a master's from the University of Cape Town in South Africa.
Two ceremonies
In 2010, separate fall commencements for undergraduate and graduate students were combined into one, but higher enrollment and graduation numbers led to the decision last fall to split them again to provide a better, more meaningful experience for students and their families. Both commencement ceremonies will be livestreamed.
The six undergraduate colleges will honor their own graduating students during events on Friday and Saturday.