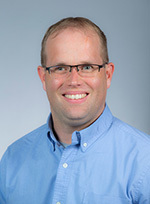 Jeff Budlong (BUD-long) has joined the university relations staff as a writer for the weekly faculty-staff publication, Inside Iowa State. Budlong fills a writer position vacant since February.
An Iowa native and graduate of Wartburg College (B.A., journalism) in Waverly, Budlong brings 16 years of daily newspaper experience, most recently at the Sioux City Journal, including the last two years as sports editor.
The office of university relations is in Suite 201 of the Kingland Building at Lincoln Way and Welch Avenue. Budlong can be reached by phone at 294-5952, by email at jbudlong@iastate.edu.