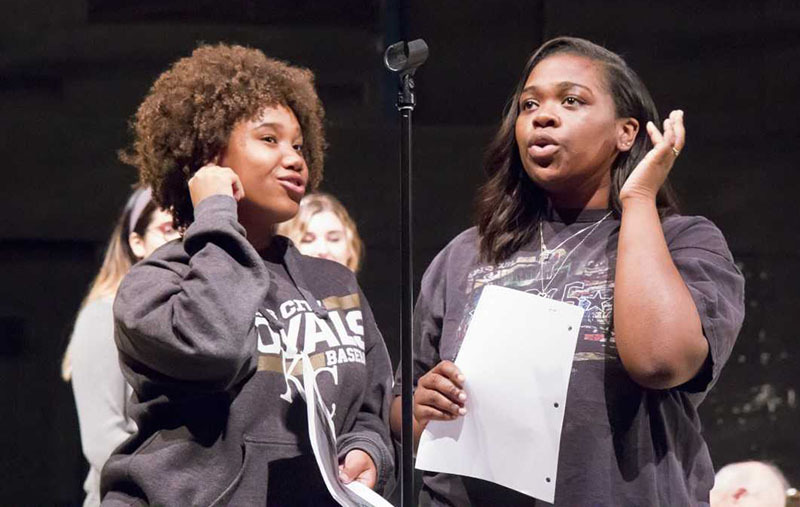 ISU Theatre will close out its fall lineup with a production ... of a production. "It's a Wonderful Life: A Live Radio Play" opens Friday, Nov. 30, with six shows in Fisher Theater over the next two weekends.
Set in the 1940s, the play is a behind-the-scenes look at a live radio production. Audience members will see actors voice multiple characters, an artist produce sound effects on cue (and the objects used to make them), and musicians, including an accompanying pianist. "It's a Wonderful Life" is the classic holiday story within the story, featuring George Bailey's journey to find meaning in his life with the help of an angel-in-training.
Egla Hassan is directing the production as part of her Dean's Artist in Residence appointment in the College of Liberal Arts and Sciences. Hassan, now retired, served 32 years at Western Illinois University, with experience directing, writing and teaching in theater and performing arts. She is the inaugural selection for the artist in residence appointment, funded by the Transforming Liberal Arts and Sciences Endowment.
As part of ISU Theatre's CoLab Initiative, the Ames-based Good Neighbor Emergency Assistance organization will be featured in an awareness display in the Fisher lobby.
Showtimes for "A Wonderful Life" are 7:30 p.m. on Fridays and Saturdays, 1 p.m. Sunday, Dec. 2, and 2 p.m. Sunday, Dec. 9. Tickets are $18 ($16 for seniors, $11 for students), available at the Stephens Auditorium ticket office, Ticketmaster or at the Fisher door prior to each performance.
Related story