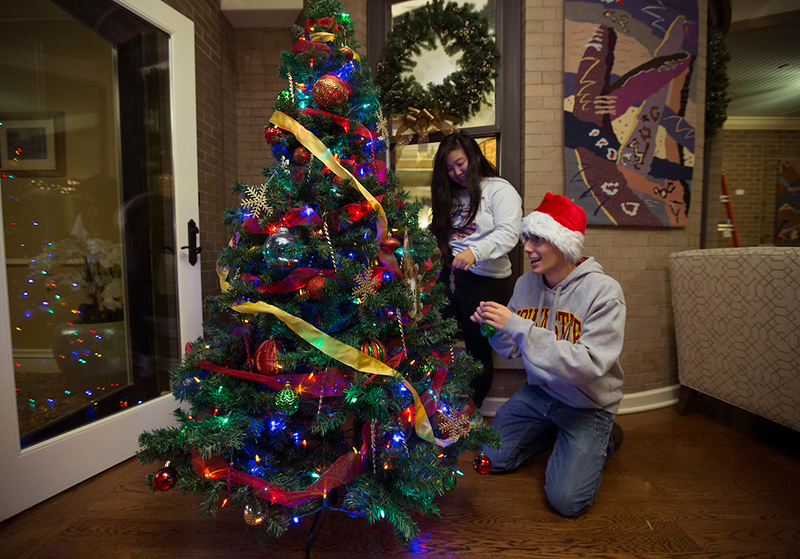 The campus community will celebrate the changing of the season and the approaching end of fall semester during WinterFest, Friday, Nov. 30, hosted by the Student Activities Center. Most events are free.
WinterFest president and senior Samantha Riesberg also said WinterFest is a great town-gown event.
"It's a celebration of the union between the university and the community of Ames," she said. "We see a lot of families on campus earlier in the evening. Anyone who wants to participate is welcome."
From 3 to 6 p.m., President Wendy Wintersteen and spouse Robert Waggoner will welcome vistors to their first holiday open house at the Knoll. (They were in the process of moving in a year ago.) Guests may sample cookies and former ISU first lady Ellen Parks' famous hot chocolate. Wintersteen invited students from Iowa State's eight colleges and the library each to decorate a holiday tree in a theme that showcases their college and/or Cyclone spirit. The nine trees are spread throughout the first floor of the Knoll.
The Knoll also is part of this year's Ames Altrusa holiday home tour Dec. 1-2 (1-5 p.m. daily). Admission is $20 and includes the tour's five homes; proceeds benefit four local nonprofits.
Bells and lights
University carillonneur and music professor Tin-shi Tam will give small-group tours of the campanile from 4 to 7 p.m. Each tour includes a short performance when the group reaches the console room beneath the bells.
Morrill Road will close to vehicle traffic for 20 minutesat 5:25 p.m. for an official lighting of the central campus holiday tree. A brief ceremony will begin at 5:30 p.m. near the front of Beardshear Hall and feature a WinterFest committee member and senior vice president for student affairs Martino Harmon. A short countdown by the gathered participants will trigger two things: the tree will light up and runners in the 12th annual Jingle Jog will depart on their five-kilometer trek.
Jingle Jog honors the memory of former Freshmen Council member Andy Albright who died in a 2005 car accident. Registration is $15 and supports the Andy Albright Scholarship, which assists an Albright-like council member each year.
Once the runners clear Morrill Road, it will be reopened for horse-drawn wagon rides. From 6 to 9:30 p.m., two wagons will take turns departing from the north side of the Memorial Union for an estimated 20-minute central campus tour along Union Drive, Farm House Lane, Osborn Drive and Morrill Road.
The WinterFest schedule is online. With the exception of a late night skating party at the Ames/ISU arena (10 p.m.-2 a.m.), events conclude by 10 p.m. Indoor highlights at the Memorial Union include:
Holiday kickoff sale, 8 a.m-6 p.m., ISU Book Store
Art Mart, 10 a.m.-8 p.m., Campanile Room (also Thursday and Saturday)
Poinsettia sale, 10 a.m.-4 p.m., near bookstore entrance
Seasonal beverage sampling, 4-7 p.m., Market and Café
Chair massages, 4-10 p.m., Gold Room
Cookie decorating and free chili/cornbread, 6 p.m. until supplies are gone, Trophy Tavern
Performance, 8 p.m., Comedian Marlon Wayans, Great Hall, tickets $29 (ISU students $15)