Daniel Robison from West Virginia University, Morgantown, has been named the next endowed dean of the College of Agriculture and Life Sciences and director of the Iowa Agriculture and Home Economics Experiment Station.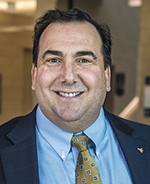 Robison, dean of WVU's Davis College of Agriculture, Natural Resources and Design and director of the West Virginia University Agriculture and Forestry Experiment Station, will begin his tenure by March 31, 2019.
"Dr. Robison has the vision, leadership experience and land-grant spirit to further strengthen the college's international reputation for excellence in teaching, research and extension," said President Wendy Wintersteen. "In partnership with our students, faculty, staff and the agricultural community, he will advance the college's mission of creating a better, more sustainable future for Iowa and the world."
Robison is a forester and forest entomologist. He joined the West Virginia faculty in 2012 after 15 years at North Carolina State University, Raleigh, including three years as associate dean for research in the College of Natural Resources.
"Everyone -- whether you live down the street or halfway around the world -- benefits from the work led by the faculty, staff and students of Iowa State's College of Agriculture and Life Sciences," Robison said. "It's a great honor to be selected to lead the college, and I look forward to working with the talented team here to address the local and global challenges of agricultural production, food safety, security and nutrition, natural resources management and underlying life sciences."
Robison earned a bachelor's degree in forestry and master's degree in silviculture and forest influences from the State University of New York, Syracuse; and a Ph.D. in entomology from the University of Wisconsin, Madison.
Wintersteen, the previous dean of Agriculture and Life Sciences, became university president on Nov. 20, 2017. In making the dean announcement, senior vice president and provost Jonathan Wickert thanked interim dean Joe Colletti for his leadership of the college since then and members of the search committee and campus community for their thoughtful consideration of candidates.