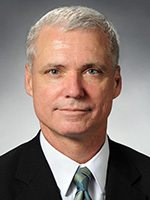 Faculty members James Oliver and David Ringholz are finalists in the internal search for the inaugural director of the Student Innovation Center.
The center, presently under construction on the west side of campus, should be completed in spring 2020. The director will provide overall leadership, vision and direction for the facility -- including planning and implementing academic programming -- and foster engagement with students and external stakeholders. It is a full-time position.
The finalists will meet with the search committee, academic deans and the Student Innovation Center steering committee, and hold an open forum for interested students, faculty and staff. The forum schedule is:
Ringholz, Monday, Oct. 29, noon-1 p.m., Howe Hall auditorium
Oliver, Friday, Nov. 2, 2-3 p.m., College of Design auditorium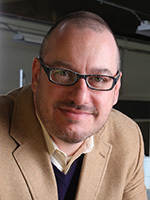 Oliver, University Professor and Larry and Pam Pithan Professor of Mechanical Engineering, joined the Iowa State faculty in 1991. He has directed the Virtual Reality Applications Center since 2004, the university's graduate program in human computer interaction since 2003 and is co-founder of BodyViz, a technology startup focused on medical visualization.
Ringholz, associate professor and chair of industrial design, joined the Iowa State faculty in 2010 to establish the program in the College of Design. He has grown the department significantly, including developing a robust industry engagement program. He also served as principal investigator on the Provost's Strategic Initiative on Interdisciplinary Design Education and Research (2011-14).
Information about the search, including an online feedback form, is on the provost's office website.
Related story