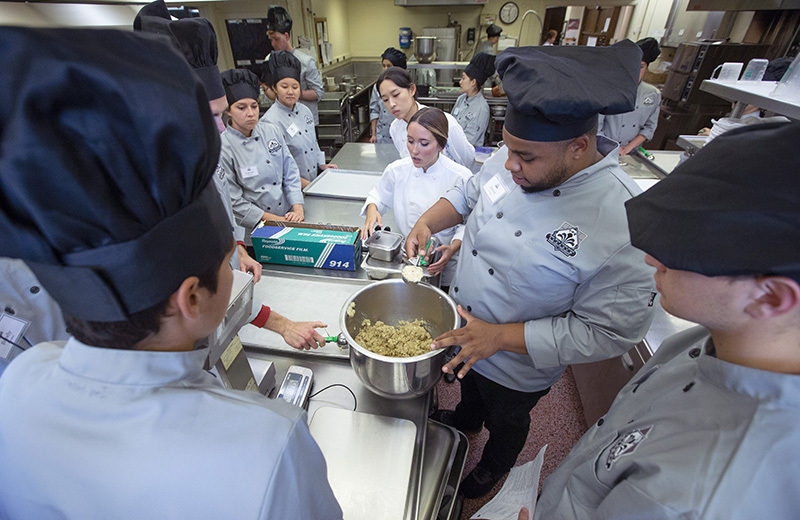 Joan Bice Underwood Tearoom
23 MacKay Hall, 294-3330
Lunch service: 11:30 a.m.-12:45 p.m. Tuesday-Friday
When MacKay Hall's Joan Bice Underwood Tearoom reopens Sept. 11, things will look and function a bit differently. The nonprofit learning laboratory operated by the department of apparel, events and hospitality management (AESHM) updated its physical space and student learning experience.
Katie Ginapp, lecturer in AESHM and co-instructor in the lab, said changes to the program and the space will benefit students in the Quantity Food Production and Service Management Experience course (HSP M 380) who plan, prepare and serve the tearoom's from-scratch menu items.
"We're looking to give the tearoom a fresh face and provide the students with a more real-world experience," Ginapp said. "We wanted to match it up with the technology and service they'd be using right now if they were working in the industry -- just to make them more prepared."
Expanded menu, hours
Guests no longer have to linger in the hallway when arriving before their 11:50 a.m. reservations. The doors to 23 MacKay now will open at 11:30 a.m. for the lunch crowd. Lunch is offered 11:30 a.m.-12:45 p.m. Tuesday through Friday while class is in session for the fall and spring semesters. The tearoom will offer dinner on Tuesdays and Thursdays (5:30-6:30 p.m.) during the spring semester.
Menu notifications
Sign up for daily emails of available menu items (294-3330, tearoom@iastate.edu).
The menu may be the biggest change for longtime tearoom visitors. Instead of one lineup, the menu includes a weekly meal special ($7.25), made-to-order grilled items (chicken sandwich, burger and panini) with sides ($6.50-$6.95), salads/wraps ($6.50-$8.50) and a la carte soups ($3.50-$4.75) and desserts ($1.50-$2.75). The tearoom's most popular and highest-rated items are featured as weekly desserts and specials. Each menu will run for a week, with a six-menu rotation planned for the fall semester.
"It allowed us to restructure our class rotation a little bit," Ginapp said. "With students doing the same tasks and repeating them more often, hopefully we'll be able to improve the overall quality and service of the tearoom."
The opening week menu features pizza primavera with a side salad as the weeklong special. Diners also can choose a traditional burger, grilled chicken sandwich or caprese panini -- each with a side dish -- or a main course serving of the tearoom's Ceasar or house salads. The week's featured soup is tomato basil bisque. Dessert options include cookies and cheesecake.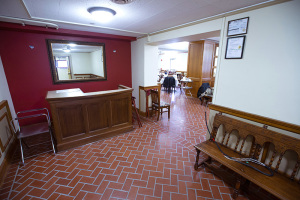 Other upgrades
Equipment upgrades were added back-of-house, similar to what students will see in full-service kitchens. Cosmetic updates include a remodeled front entry with improved lighting and seating in a waiting area. New chairs, linens and video monitors freshen up the dining room, which Ginapp said can be used for more than just meals.
"We can use it as a meeting space when we're not having class," Ginapp said.
The reservation system is now online, using the OpenTable application. Guests using credit or debit cards can pay tableside with handheld devices, while diners using cash or check will pay at the register. Payment with CyCash (via ISU Card) will be enabled later this semester.
Get it to go
Menu items are available to go in 16 MacKay, the laboratory's kitchen entrance. To-go orders can be preordered by phone (294-3330) or placed on a walk-in basis during tearoom hours. An online ordering system is being developed.
"We're all really excited to finally see these changes," Ginapp said. "It's hard to imagine how it's going to work until you get all of the pieces in the puzzle coming together."