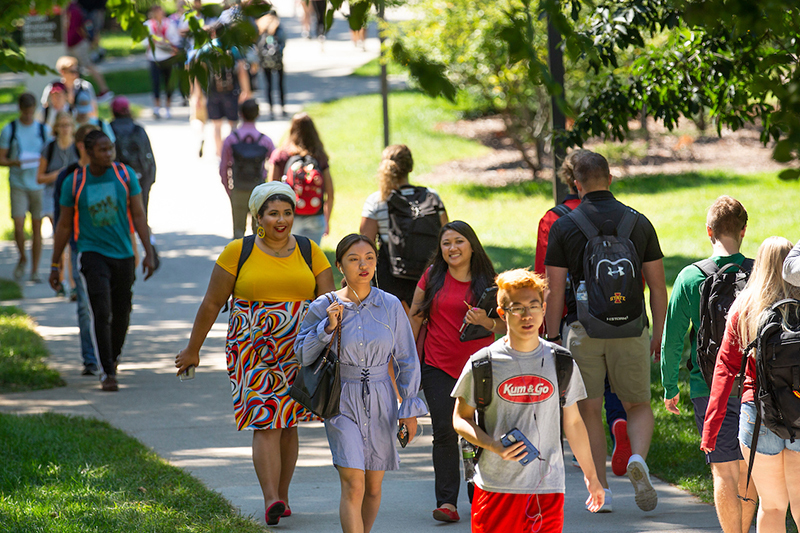 Iowa State's fall 2018 enrollment is a robust 34,992, the fourth-largest in school history. Of that number, 29,621 are undergraduates -- the largest number enrolled at any Iowa college or university.
The fall 2018 total reflects, for the first time, a new counting methodology adopted by the state Board of Regents. Enrollment no longer includes 351 postdocs, 32 students enrolled in the intensive English and orientation program and approximately 60 students enrolled in the summer trial program, who were counted in previous years.

Class of 2022: Ready for academic rigor
Iowa State welcomed 6,047 new freshmen -- 103 more than last fall -- and they have the highest-ever average high school GPA for an incoming Iowa State class: 3.64. More than a quarter of them (26.5 percent) ranked in the top 10 percent of their high school class, and their average ACT score was 25.1.
"I'm delighted to introduce such a highly qualified class to the exceptional student experience, teaching and research that we offer at Iowa State," said President Wendy Wintersteen. "I know they will thrive, learn and grow in ways that will change our world for the better."
Nearly one-fourth of Iowa State freshmen (1,449, or 24 percent) are first-generation college students.
More Iowans attend Iowa State than any other school
In both the freshman class (3,362 Iowans) and in the overall fall 2018 enrollment (19,022 Iowans), more than half (55 percent) of Iowa State students are in-state residents. Among undergraduates, 59.2 percent are Iowa residents.
From where they come
Of ISU's 12,279 out-of-state students, a record 10,289 are undergraduates, up 260 from last fall.
Iowa State's student body represents all 99 Iowa counties and all 50 U.S. states (plus Washington, D.C.; Puerto Rico; the Virgin Islands and Mariana Islands), as well as 126 countries.
"Growth in students from Puerto Rico was exceptional, with an increase of 24 percent in new freshmen," noted admissions director Katharine Johnson Suski. "We are pleased to support these students following the devastation from Hurricane Maria last year."
International enrollment is 3,691, down 424 students from 2017.
Record diversity
Total U.S. multicultural and international enrollment at Iowa State is 8,554, or 24.5 percent of the student body -- a new record.
U.S. multicultural enrollment is a record 4,863, up 189 from last year's total of 4,674. Undergraduate U.S. multicultural enrollment also is a record -- 4,340, up 169 from last year's total of 4,171. Freshman U.S. multicultural enrollment, another record, is 972, up 78 students from last year's total of 894.
Veterinary medicine
Professional (doctor of veterinary medicine) enrollment is at maximum capacity: 597 students.
In comparison
Iowa State enrollment has plateaued the last two years following a decade of growth and eight consecutive years of record enrollment. This fall's total represents 2.8 percent fewer students than the 35,993 enrolled at Iowa State in fall 2017. The number also reflects national enrollment trends, a decline in international enrollment, record graduation rates and smaller incoming classes replacing large graduating classes. Iowa State awarded a record 8,356 degrees in 2017-18.
Fall 2018 enrollment by college
| | |
| --- | --- |
| Agriculture and Life Sciences | 5,083 |
| Business | 4,931 |
| Design | 1,928 |
| Engineering | 9,530 |
| Human Sciences | 4,385 |
| Liberal Arts and Sciences | 8,035 |
| Veterinary Medicine* | 762 |
| Interdepartmental units and graduate undeclared | 338 |
| Total | 34,992 |
*Breakout: 597 DVM, 165 graduate