Several years in development and in response to customer interest, university transportation services (UTS) will open a key kiosk Tuesday, Sept. 4, for its daily vehicle reservations. The new system -- a computer touch screen for checking in and out, and two locked panels containing keys for more than a hundred vehicles -- allows customers to pick up and return vehicles around the clock, including over the weekend. The 24/7 system also can handle last-minute reservations or changes to reservations -- for example, an illness that results in a driver change.
The kiosk was installed in the vestibule of the UTS office on Haber Road.
UTS manager Kathy Wellik said the change is intended to improve and expand customer service. For example, conference-goers leaving town Sunday morning won't have to check out a vehicle Friday afternoon. Or, better clarity in reservation times and lengths means that more drivers could take advantage of the half-day rate (reservations of six hours or less qualify).
In an era of flat to shrinking budgets, the automated system also builds in efficiency to the vehicle reservation service, ultimately decreasing the size of the fleet by about a dozen cars.
"Other universities that purchased this system said their customers love it once they have used it," she noted. "We're anticipating a smooth transition, though we know there will be a few bumps. I ask customers to be patient as we work through those."
A three-minute video walks drivers through the process of using the key kiosk. Wellik said she and other UTS staff are available to attend department meetings to train drivers in the new system or answer questions.
The familiar
Much about using UTS vehicles for university travel isn't changing. For example:
The online reservation system is unchanged. Use a computer, phone or other electronic device to make reservations -- but they can't be made at the kiosk.
The rate structure is the same, though more trips may qualify for the half-day rate.
Drivers need to top off the gas tank (card provided) before leaving the vehicle in the UTS lot.
Drivers need to remove personal items and trash from the vehicle (trash cans are next to the fuel pumps).
UTS staff are inside the building (during business hours) and happy to assist drivers. The kiosk also includes a spot for drivers to leave a note about issues or concerns so staff can respond immediately.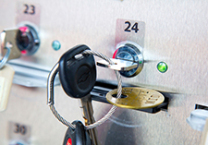 A few adjustments to note
An automated system that doesn't require an in-person key handoff has some inherent safeguards, Wellik noted. For example:
Every driver must have a completed profile in UTS' online reservation system (it will be the same as his or her university net ID).
A reservation has to list the appropriate driver (a driver not on the reservation won't be able to access keys after hours).
Drivers may check in up to 15 minutes prior to the start time requested in the reservation.
Accuracy in the reservation regarding start and end times becomes more important. Another driver may be using that vehicle later in the day.
Drivers who will return to campus later than indicated in their reservation should call UTS (294-1828 during business hours, 509-1686 evenings and weekends) to let staff know. As necessary, staff will assign another vehicle to the next reservation. The system also is programmed to offer an alternative when vehicles are unavailable for any reason.
When drivers return vehicles, they'll record on the touch screen both the vehicle's odometer reading and stall number where it's parked.
Wellik said a key concern at UTS is providing a clean vehicle to every driver even though staff won't be checking vehicles between reservations as they do now. Driver courtesy will be critical to maintaining clean interiors. If necessary, drivers are welcome to use the vacuum on the east side of the transportation services building.
"Most of our customers return vehicles fairly clean. But if a driver opens a vehicle that's unacceptable, please notify our staff right away so we can remedy the situation," she said.