When Wendy Wintersteen is installed as Iowa State's 16th president on Sept. 21, she'll be wearing the most recent addition to University Museums' Art on Campus collection -- an identical, but proportionally smaller, version of the presidential chain of office.
A bit of history
The first presidential chain and a matching ceremonial mace were commissioned by University Museums and the alumni association in 2008 for use at formal university ceremonies. The complementary pair was crafted in silver, bronze and tiger maple by sculptor Jeanne Stevens-Sollman. Museums director Lynette Pohlman said the Pennsylvania-based artist's sculpture and medallic art is reminiscent of former university artist-in-residence Christian Petersen.
"Her artwork comes out of the tradition of Christian Petersen, who made small bronze medallions before he went into large-scale sculpture," Pohlman said. "Jeanne has a very distinguished career of her own in fine art and medallic arts, and has a long list of national artistic credentials."
Why the change?
The original chain, titled "Monile Praesidis Maxiumus," weighs nearly four pounds and measures 38 inches long. The presidential chain that will debut at Wintersteen's installation, "Monile Praesidis Secundum," is six inches shorter and almost two pounds lighter.
"It became apparent that the first presidential chain was quite large," Pohlman said. "It was ponderous to wear, especially for long ceremonies."
Pohlman said the smaller-scale presidential chain is appropriate for individuals of any physical stature and provides the president more freedom of movement -- for example, when handing out diplomas or maneuvering through other commencement duties.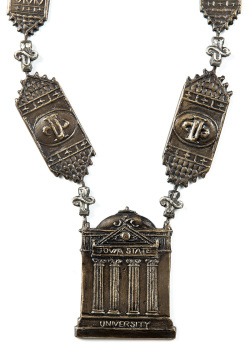 Steeped in ISU history
The chain is designed to drape over the shoulders of the president's academic robe. Representations of the campanile and Beardshear Hall serve as pendants on the front and back of the wearer, respectively. The chain is fastened at the shoulder with epaulets crafted in the shape of Beardshear's columns and inscribed with the words "leadership" and "service."
The bronze links of the chain -- eight total -- reflect architectural elements of the campanile, with bas-reliefs of corn on their underside. Four of the outward-facing bronze links contain the words "engagement," "learning," "discovery" and "access." Small silver links (12) also represent the columns of Beardshear.
"We commissioned sculptures with symbolism and words specific to Iowa State," Pohlman said.
Both presidential chains and the mace are on display at the Alumni Center. Private gifts from an anonymous donor and Carole and Roger Custer, Jefferson, funded the newest chain.