Eliminating free visitor parking during business hours and raising fines for violations should help clear spaces paid for by permit holders. Mark Miller, director of the parking division, said the changes are aimed at compliance, rather than generating revenue.
"We don't want to give tickets," Miller said. "The last two times we've raised fines, the revenues have dropped."
He said permit holders get frustrated when unauthorized vehicles park in their spaces, something the university's transportation advisory council took into consideration.
"Our advisory council weighed in and made the recommendation to raise the rates," Miller said. "We want to make sure that people who are paying for the privilege have a place to park."
Park Smart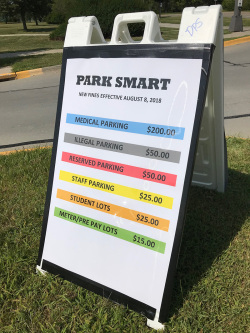 About two dozen sandwich boards have popped up around campus to remind drivers to "Park Smart" and avoid parking fines. As of Wednesday, Aug. 8, citations increased to:
$15 for expired meters and prepaid stalls, an increase of $5
$25 in student and general staff lots, an increase of $10
$50 in reserved lots and stalls, an increase of $20
$50 for illegal parking (for example, along yellow curbs or in fire lanes), an increase of $10
$200 in medical accessible locations, which mirrors the state-mandated penalty
More information and a complete list of fines is available on the parking division website.
Visitor permits
Visitor parking permits, free prior to July 1, cost $5 daily for a maximum of five days. Visitors can use the online form to purchase and print a permit. Miller said his staff can assist departments with online visitor permit requests.
"Some campus departments have reserved parking spaces they already use for their visitors," Miller said.
Miller said metered stalls are being added in some lots -- for example, near the Environmental Health and Services Building and the Applied Sciences complex -- to provide an option for short-term visits.
"There are a lot of options. We also try to make sure people know there is free parking at the Iowa State Center, with a free CyRide bus route onto campus," Miller said.
Visitor permits are valid only in the general staff (7 a.m. to 5:30 p.m. weekdays) and student parking lots (all hours, all days). Many campus lots are open for free parking on weeknights and weekends. If a citation is issued, visitors get one "visitor void" in their lifetime. Citations for medical, illegal or unauthorized parking violations will not be voided. Visitor voids are not available for use by faculty, staff and students.
"We understand that our policies can be a little confusing if you haven't been on campus before," Miller said. "As long as you didn't park illegally or in a medical stall, we'll take back one ticket and provide you with information about how to get a permit in the future."