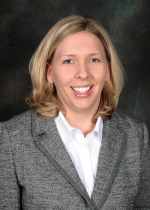 Erin Baldwin has been named assistant vice president for student health and wellness in the student affairs division, effective Aug. 8. Baldwin, who has served as interim in the position since Oct. 2, 2017, also is director of Thielen Student Health Center and will continue in both roles. As assistant vice president for student health and wellness, Baldwin is responsible for developing a holistic, multidisciplinary approach to student health and well-being for a growing and diverse student population. Duties include oversight of the Thielen Student Health Center, student counseling services, the student wellness office and recreation services.
"Student health and well-being are inextricably linked to student academic success, retention and persistence to graduation," Baldwin said. "I am honored to have the opportunity to support our students, health and wellness team, and campus partners as we strive for a campus culture of holistic wellness."
Before coming to Iowa State, Baldwin was chief operating officer for the Mahaska Health Partnership in Oskaloosa. She has senior leadership experience in provider-based clinics, pharmacy, lab, radiology, physical and occupational therapy, food and nutrition services, behavioral health services and public health. She earned a bachelor's degree in respiratory care at the University of Kansas (2003) and master's degrees in health care administration and public health from the University of Iowa (2006).
"As the director for the Thielen Student Health Center, Erin has transformed the center into a department that delivers high quality, holistic and comprehensive care to our students," said Martino Harmon, senior vice president for student affairs. "Throughout each challenge and each new role, I have been impressed with Erin's professionalism, commitment to higher education and desire to help students succeed."
Baldwin also will continue to serve as interim director of student counseling services during the search for a replacement. Former director Joyce Davidson moved into the role of special projects director for student health and wellness on June 11.