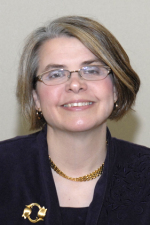 After a national search, the College of Liberal Arts and Sciences has named Karen Kedrowski as its new director for the Carrie Chapman Catt Center for Women and Politics.
Kedrowski will succeed Dianne Bystrom, who will retire in August after serving 22 years as director.
A professor at Winthrop University in Rock Hill, South Carolina, Kedrowski currently is the executive director for the university's Center for Civic Learning and co-director of its John C. West Forum on Politics and Policy.
"I am honored and humbled to be selected by Iowa State as the next director of the Catt Center, which has thrived under Dianne Bystrom's leadership," Kedrowski said. "The next few years offer a great opportunity to further raise the Catt Center's profile, as a record number of women are running for public office nationwide and the country marks the centennial of women's suffrage in 2020."
Kedrowski's appointment begins Jan. 1, 2019. Kelly Winfrey, assistant professor in the Greenlee School of Journalism and Communication, will serve as interim director, effective Aug. 13.
About the Catt Center
The Carrie Chapman Catt Center for Women and Politics was established by the state Board of Regents in 1992 and is the nation's second oldest university-based center for women and politics.
Over the last two decades, the Catt Center expanded its Legacy of Heroines scholarship program and added numerous programs. The center houses a one-of-its-kind online Archive of Women's Political Communication, hosts the national Ready to Run bipartisan campaign training workshop in Iowa, tracks the representation of women on city and county boards and commissions through its Gender Balance Project and the Women in Iowa Politics Database, among other initiatives.
"Under Dianne Bystrom's extraordinary leadership, vision and drive, the Catt Center has built a national reputation for its research on women's political communication, outreach and engagement efforts with students and citizens and media commentary," said LAS dean Beate Schmittmann. "We are thrilled to welcome a leader of Karen's caliber to Iowa State and look forward to how she will shape this next chapter in the Catt Center's legacy."
As director of Winthrop's Center for Civic Learning since 2017, Kedrowski has led the university's civic engagement and civic learning activities through philanthropic and grant writing efforts, hosting candidates and forums and spearheading student voter initiatives. As co-director of the John C. West Forum since 2008, Kedrowski coordinates campus and community civic engagement events. In these roles, she secured a voter-friendly campus designation, led efforts to host U.S. presidential candidates prior to the 2016 South Carolina primary and secured a major donor gift to permanently endow the West Forum.
While at Winthrop, Kedrowski also served as dean of the College of Arts and Sciences, supervising 19 department chairs and professional staff and overseeing a $16 million annual budget. She is a former chair of the political science department and a Distinguished Professor, Winthrop's highest faculty award.
Kedrowski is the author of the book "Media Entrepreneurs and the Media Enterprise in the U.S. Congress" and the co-author of the books "Cancer Activism: Gender, Media and Public Policy" and "Breastfeeding Rights in the United States." She has authored or co-authored several book chapters and published numerous journal articles.
Kedrowski currently serves on the board of the Women's Rights Empowerment Network (WREN) and United Way of York County. She is a flutist in the Carolinas Wind Orchestra.
Kedrowski holds a bachelor's degree from the University of Minnesota, where she majored in political science, French and history. She earned her master's degree and Ph.D. in political science at the University of Oklahoma.