ISU Dining director Mohamed Ali wouldn't reject every branded option for campus on principle. But he readily admits he prefers to do things in-house.
Yes, he bristles a bit at sending franchise commissions to out-of-state corporations, but who doesn't? For him, it's also about the freedom to be creative, to innovate and meet customer demands.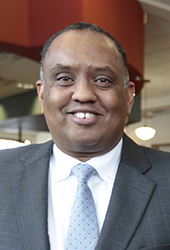 "When you work with franchises, you have to ride the bus. You're limited to what they want you to do, because they need to protect their brand," he noted.
He understands that. He's also convinced do-it-yourself results in better food.
"We have a very talented team in ISU Dining, and we can produce quality food," Ali said. "Why would you pay someone a commission to do something similar but of a lesser quality?"
His most recent case-in-point was replacing the Subway sandwich counter in the Memorial Union food court in January with Lance and Ellie's delicatessen. It features high-quality meats and cheeses and made-from-scratch breads and desserts.
Ali also didn't renew the Caribou coffee (Hub), and Froots smoothie (State Gym) contracts, which expired this summer. But there still are brand names on campus: Starbucks and Roasterie coffee, Godfather's pizza, Panda Express Asian cuisine and Coca-Cola.
Strong financial model
When done well, in-house menus and food preparation actually save money. Ali admits it's a challenge, but also rewarding.
Investing in the right equipment boosts labor efficiency while opening a window to homemade quality: a cookie dropper for made-from-scratch cookies instead of baking frozen packaged dough, a bagel maker that accomplishes the same, a pita oven for the new Mediterranean menu in the Hub lets employees bake pitas onsite from dough made daily in the campus commissary.
If you think fresh costs more, think again. Ali said ISU Dining lowered its labor costs $1 million across the last two years. It hires about 1,600 student employees over the course of a year who "do a great job," Ali said -- but also are a nonstop revolving employee pool. He credits a fulltime team of about 210, including 11 professional chefs, with "keeping the consistency in what we do."
Karen Rodekamp, business and support manager for ISU Dining, said it also lowered its food costs $1.6 million over that time by choosing fresher options. Examples include replacing:
Pre-cut fruit with fresh fruit and cutting it on-site. Annual savings: $100,000
Precooked and frozen pastas (blanched on-site) with uncooked pasta and boiling it on-site. Annual savings: $125,000
Prepared pizza crusts with in-house dough balls. Annual savings: $25,000
A significant factor in the cost savings has been a single primary food vendor for Iowa's three regent university dining services. Agreement among the three on a single brand -- for example, on a chicken breast or tortilla -- and buying it in volume can save tens of thousands of dollars a year at each school for each product.
As an auxiliary unit, ISU Dining has to pay its own way and meet its budget, Rodekamp noted. So dollars saved boost its ability to renovate aging facilities, maintain two dozen locations, repair or replace food service equipment and develop new menus.
Greater flexibility
Iowa State students -- ISU Dining's primary audience -- come from around the country and the globe, Ali said. Many of them travel more regularly than students did 10 or 15 years ago. Families today eat out more frequently. Cooking shows are tremendously popular and influential, he said. That all adds up to customers with higher expectations for quality, fresh and healthy food. As a self-supported unit, ISU Dining needs the flexibility to tweak -- or even swap out -- its menus, to both keep customers and gain new customers, Ali said.
"We need to stay relevant, current and fresh because our students always are looking for options," he said.
A franchise, or even a frozen food product, limits the options for creativity, he said, and typically adds to the cost of doing business. Plus, he's convinced brand familiarity is not as important as it used to be. Today's customer, he said, is simply looking for something special.
"Where a franchise adds value and makes sense for us and can meet our customer needs, we'll consider it," Ali said.
A name to embrace
When it reopens this fall, the renovated Hub on central campus will feature a Roasterie coffee anchor store. The direct-trade, Kansas City-based company is owned by Danny O'Neill, a Denison native and 1983 Iowa State alumnus. Some campus cafes have served Roasterie coffee since 2004.
Initially skeptical about the franchise, Ali said a trip to company headquarters converted him.
"Right away I realized this guy is different. He knows what he's doing, and he really cares about Iowa State," Ali said. "We're not doing this for that reason, but for the high quality of the coffee. He goes to Central America to select his beans. They're air roasted the day we order."
ISU Dining employees even have received additional training on calibrating the brew machines.
"We're going to make this coffee the way it's supposed to be," Ali said.