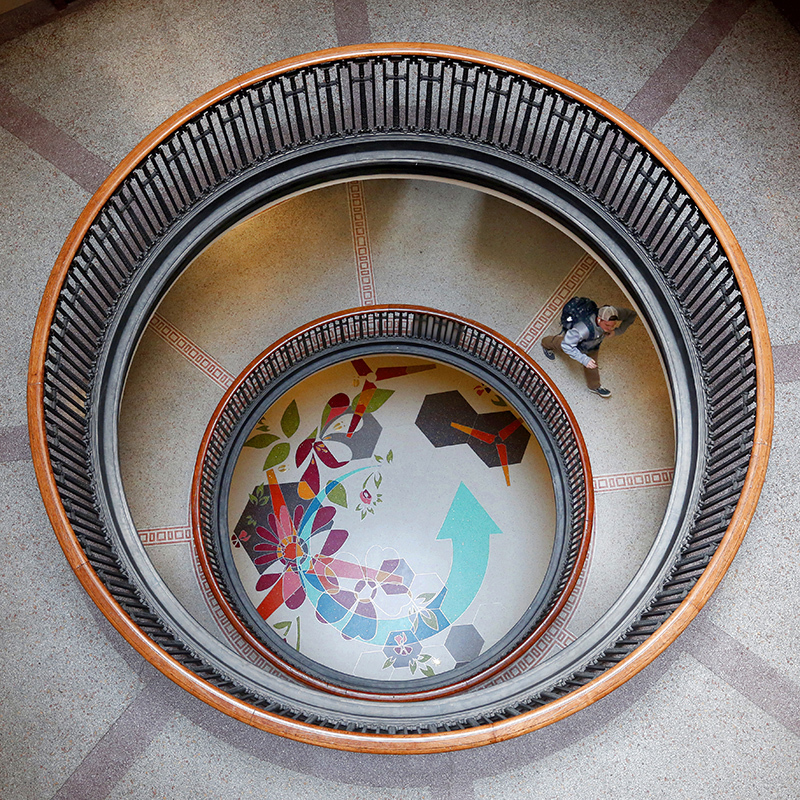 A stroll across campus is bound to cross paths with Iowa State's extensive collection of public art. It might even walk right over it.
The June version of the monthly art walk hosted by university museums will explore elements of the art on campus collection that are hidden in plain sight, including a piece people step on every day. The walk starts on the ground level of the Curtiss Hall rotunda, where a 25-foot-wide terrazzo mosaic titled "All the Way Home" was installed in the floor during a renovation completed in 2013.
The numerous mosaics in floors and walls on campus inspired Erin O'Malley, campus outreach coordinator for university museums, to highlight Iowa State artwork that's easy to overlook because it's embedded in buildings or functional structures. Another stop on the tour, for instance, is a gate.
"When people think about the public art on campus, they think about the large sculptures. But we have so much art that is integrated into buildings, pieces of art that are made up of many different components throughout a building, things that are in floors and walls," O'Malley said. "It's not as flashy as people might think. A lot of times, it's not really noticed."
But it's worth noticing, she said. "All the Way Home" is one of the most colorful mosaics on campus, with bright abstract shapes and images suggesting the growing cycles and technological advancements of agriculture. During the art walk, which begins at noon June 13, her presentation will explore why artists used the spaces in question and what they were trying to say.
"The focus is really to make people stop and consider things that they didn't consider to be works of art," she said.
Steps to understanding
Consideration of the art around us is the goal of every month's art walk. The free hourlong tours -- new each month, no reruns -- interpret aspects of the art on campus collection for students, employees and community members. In addition to providing a more intimate recognition of the university's public art collection, the walks help boost visual literacy, O'Malley said.
"It's teaching people how to look at art and analyze it. It's a useful skill to have," she said.
Art walks are held on Wednesdays over the lunch hour to make it easier for faculty and staff to participate, O'Malley said. Each walk takes stock of about a half dozen pieces within walking distance that speak to a certain theme. Here are the other walks planned through December and their meeting locations: