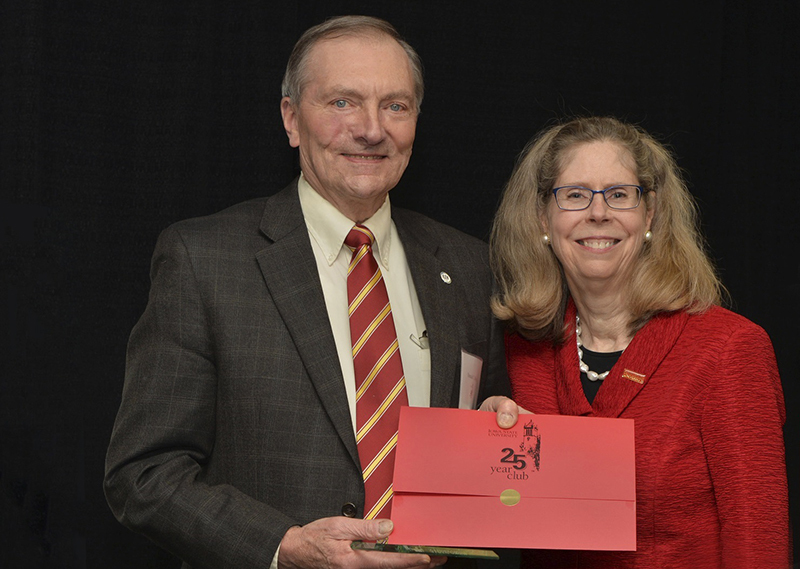 In 2017, 64 employees reached 25 consecutive years of service at Iowa State, newly earning their place in the time-honored Iowa State club celebrating longtime workers. For more than 100 years, the 25 Year Club has recognized faculty and staff who have worked at Iowa State a quarter century or more.
The tradition began informally in 1915 with a convocation whose honorees included several significant figures in university history, such as Gen. James Lincoln, Herman Knapp, Alfred Bennett, Edgar Stanton and Louis Pammel. A 25 Year Club banquet has been held annually ever since, though the club wasn't formally founded until 1934, by Col. Harold Pride, secretary of the alumni association and Memorial Union director.
"Staff members who have served the College as long as you have come to personify the College to her Alumni. Buildings and land do not make a college; it is the men and women of the staff who make any college," Pride wrote to the club's charter members.
During its long history, the club has inducted more than 3,300 members who have served at Iowa State for at least 25 years, according to data from university human resources (UHR). UHR and the club's officers coordinate an annual banquet recognizing new members and those who reached 35, 45 and 50 years of continuous service in the prior calendar year.
Mallory Schon, a UHR human resource specialist, said veteran employees are highly valuable in part because of their institutional knowledge. "It's so helpful to understand where we've been, to figure out where we want to go," Schon said.
Presidential appearance
The March banquet is free for those being recognized, all who are given a small gift to commemorate their years of service. This year's honorees included 64 employees for 25 years of service, 43 for 35 years, five for 45 years and one for 50 years.
About half of the 113 honorees attended the March 5 banquet, along with another 75 guests, including President Wendy Wintersteen -- the university's first president to take office as a member of the 25 Year Club. Only one other president -- Robert Parks, just before his retirement -- reached the 25-year milestone.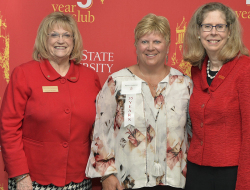 The president's presence was a welcome surprise, said Marcia Anderson, a secretary in the university marketing office honored this year for 35 years of service.
"It was very appreciated, maybe more than they realize," she said.
Anderson said she's remained at Iowa State for many reasons. She likes the benefits and the people. New challenges and new students keep work interesting. But she also appreciates the range of opportunities available for staff.
"You can be as involved or not as involved as you want to be. At different times of your career, there's different things that may interest you," she said. "And if you don't like something, you can move around."
A heartwarming sight
Donald Beitz started working at Iowa State in 1967. Fifty years later, the 78-year-old still is on faculty.
"I can almost say it's divine guidance," said Beitz, the sole 50-year honoree this spring.
The Distinguished Professor of animal science came to Ames immediately after earning his doctorate at Michigan State. He had an offer in hand from the University of Nebraska, but the morning he planned to call and accept the job, he had butterflies in his stomach and put it off. At lunch, he assured his wife he'd make the call by 3 p.m. Instead, Iowa State called at 1:30 p.m., wondering if he wanted to interview.
Beitz has enjoyed his colleagues and loves advising graduate students. Plus, the mix of duties in his position is a perfect fit, allowing him to conduct basic nutrition research with applications and teach biochemistry.
"I don't even consider it work," said Beitz, who hopes to stay on the job for a couple more years.
A former officer for the 25 Year Club, Beitz finds it heartwarming to look out over the crowd at the club's banquets and see so many experienced faculty and staff being recognized. He thinks it's important to appreciate people, but he also likes that the banquet is for both faculty and staff.
"I'm just delighted that everyone's in the same mix," he said. "It's a cool thing the way it's done."