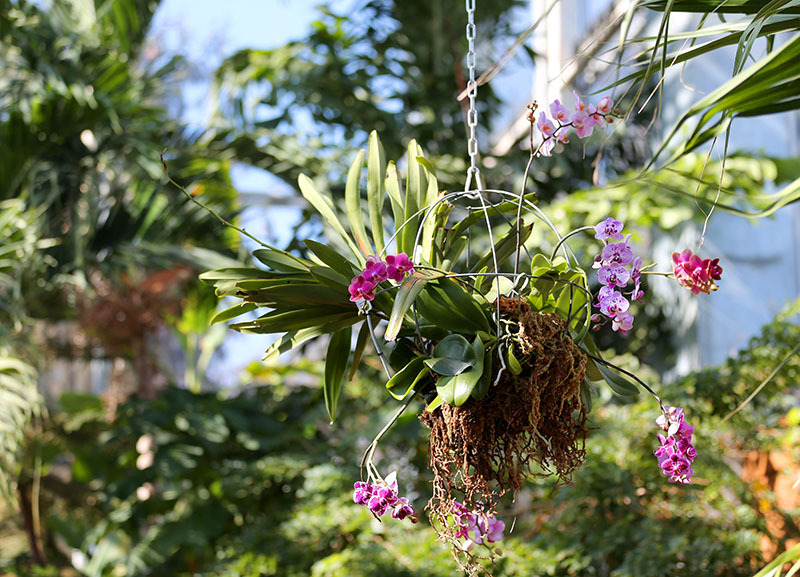 The new year ushered in a new theme for Reiman Gardens, with "Movement" central to the displays and exhibits featured in 2018.
Reiman Gardens' Hughes Conservatory kicked off the theme year in January with an "Orchids in the Air" exhibit, on display through April 22. Suspended topiaries and mobiles add to the colorful array of orchid varieties that fill the conservatory.
Beginning in late April, visitors will find 12 sculptures scattered throughout the garden's 17 acres. The stainless-steel kinetic sculptures, created by Massachusetts-based sculptor and engineer George Sherwood, respond to weather, light and more to reflect the movement theme. The sculpture exhibit, "Wind, Waves and Light," will be on display April 28 through Nov. 3.
Other planned exhibits include:
More than 50,000 tulips, highlighting the plant's migration from Asia to the Netherlands (watch for an announcement of extended hours during the peak blooming period)
Plant displays, inspired by art movements, in the children's garden (impressionism), south patio (American abstract impressionism) and herb garden (abstract)
Art in the Garden Room Gallery, currently featuring oil paintings by Des Moines artist Michele Baggenstoss (March 22-June 19)
An interactive installation in the northeast corner of the grounds, "Forces of Nature," developed by architecture students
Additional exhibits will be announced on the Reiman Gardens website.
Daily admission to the gardens is free for members, ISU students and children 3 years and younger. General admission is $8 for adults, $7 for seniors and $4 for youth. Reiman Gardens is open 9 a.m. to 4 p.m. daily, with extended summer hours (9 a.m.-6 p.m.) beginning May 1.