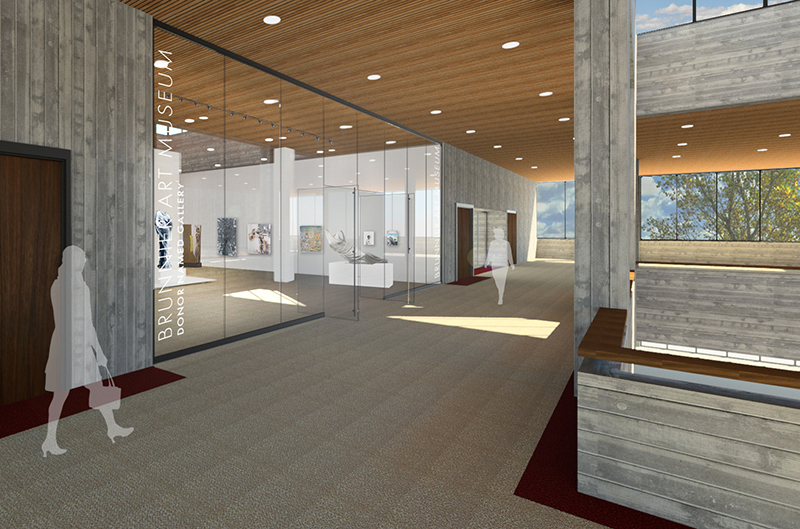 Aside from its growing art collection, little has changed about the Brunnier Art Museum's physical attributes since the doors first opened in 1975. But a proposal is in the works to remodel the museum entrance on the top floor of the Scheman Building, expand the exhibition space and retrofit the permanent collection storage area -- called the vault -- with space-saving mobile shelving for sculptures and paintings.
"The real reason we're doing this is to provide better access to the permanent collection -- both physically and intellectually -- for our students, faculty and visitors," said Lynette Pohlman, director of University Museums.
Pohlman said faculty regularly request works of art be pulled from the permanent collection for class instruction. The process is labor-intensive and requires several hours of staff time. The proposed remodel will provide quicker access to stored artwork.
"The storage area currently has 900 square feet, and that will not change," Pohlman said. "But by incorporating compact, mobile storage, we will increase our space efficiencies."
Visitors are not allowed into the vault, but they will appreciate the museum's proposed open, glass-paned entrance.
"It will be obvious where the museum is," Pohlman said.
If approved, the new entry will add approximately 1,400 square feet of exhibition space to the front of the museum. Pohlman estimates an additional 250 to 300 works of art from the permanent collection can be exhibited annually following the remodel.
Timeline
The project still is in the design stage, which Pohlman said should wrap up in March. If approved by university administration, the design's construction phase would begin immediately with completion between September and January 2019. Timing depends on what workers find once walls start coming down, Pohlman said.
Budget
The remodel would be funded through private donations. Fundraising efforts have been underway for some time and will continue until expenses are covered. While numbers have yet to be finalized, Pohlman believes the total bill will exceed $1 million. Those who wish to contribute to the project may contact Pohlman, 294-6966, or the Iowa State University Foundation, 866-419-6768.
Visit other campus museums
The Brunnier Art Museum is closed now until the remodeling project is approved and/or completed. In the meantime, Pohlman urges faculty to continue to contact University Museums for help with their classes. Iowa State's other museums remain open.
"While the Brunnier is closed, I encourage everyone to visit other museums on campus and continue to explore the cultural legacy our campus offers," she said.