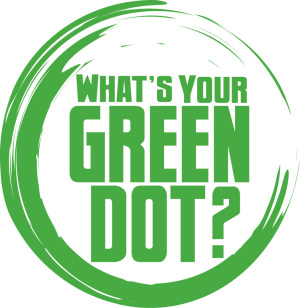 While the Green Dot violence prevention program is fairly new to the Iowa State campus, program organizers hope an exhibition at the reACT Gallery in Morrill Hall through Feb. 16 will help faculty, staff and students take a stand against violence.
The free exhibition, open Monday through Friday, 11 a.m. to 4 p.m., features 12 sculptures and paintings from University Museums' permanent collection. The artwork is meant to start conversations among visitors about what they can do to prevent or stop violent situations and what barriers hold back bystanders from helping others.
Within the exhibit
The exhibit encourages action. Visitors may write notes on green stickers and affix them to walls or pedestals near the artwork to help others view the pieces from different perspectives. At the back of the gallery, individuals can write down ways they plan to prevent violence, even if it's just talking to friends about the Green Dot program. A video that portrays victims of sexual assault and harassment plays near a display about the #MeToo movement.
"There's a current movement of art therapy as a way to support survivors of power-based violence," said Jazzmine Brooks, violence prevention and Green Dot coordinator in student wellness. "Using art is a way to silently engage in the resources available on campus and to continue conversations about how to prevent violence."
Outside the exhibit
Several campus activities are planned in conjunction with the Green Dot exhibition.
Social media challenge, through Jan. 28: Post "What's Your Green Dot?" on Facebook or Instagram using #ISUGreenDot. A "green dot" can be as simple as talking with friends about not tolerating violence or wearing Green Dot program gear.
"The Hunting Ground" documentary, Jan. 25 (5:30-7:30 p.m., 2019 Morrill): This film follows the stories of two sexual assault survivors.
Pop-up exhibition, "Small Acts, Big Impacts," Feb. 1 (11 a.m.-1 p.m., lobby and 405 Parks Library): Participate in trivia and learn what Iowa State has done in the past to positively impact change on campus. Trivia answers will be available at reACT Gallery.
Green Dot dining, Feb. 4-9: Visit the dining centers and enjoy a free Green Dot cookie.

Sunday, Feb. 4: Conversations
Monday, Feb. 5: Storms
Tuesday, Feb. 6: Union Drive Marketplace
Wednesday, Feb 7: Friley Windows
Friday, Feb. 9: Seasons Marketplace

Green Dot podcasts, "Redefining Relationships," Feb. 12-16: Learn about healthy relationship behaviors, dispel myths and hear from experts and students about how to navigate common relationship issues. View on the ISUGreenDot Facebook page.
Brooks hopes the exhibit and its related events will ignite conversations about how individuals can help prevent violence at Iowa State.
"My goal is for people to understand the program and see their role in it," she said. "If people know what their role is, they can begin to speak up."