Scott Grawe, the Robert and Jane Sturgeon Faculty Fellow in supply chain management and associate dean for strategy and engagement in the Ivy College of Business, has been named interim director of the Study Abroad Center. The appointment, which is in addition to his existing duties in the college, will extend through June 30.
Trevor Nelson, the center's previous director, left Iowa State last month for a similar role at the University of Delaware.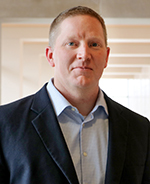 In making the appointment, associate provost for academic programs Ann Marie VanDerZanden said the combination of Grawe's business expertise and his passion for study abroad programs made him an ideal candidate to lead the center.
"International experiences, whether they last two weeks or an entire semester, provide a global perspective that is increasingly desired by employers," she said. "Scott will do a great job making sure we deliver the best service to students, as well as enhance coordination with study abroad programs in the academic colleges and departments."
Among his accomplishments at Iowa State, Grawe developed one of the university's most innovative study abroad programs -- working with the Target Corporation to track everyday items, such as kitchen spatulas, from a store shelf in Ames to manufacturing plants in China.
"It's a great privilege to be selected to lead the Study Abroad Center during the search for a new director," Grawe said. "There is much more we can do in terms of providing opportunities for students to study abroad, including scholarships and other support that make the experience accessible for all students."
As interim director, Grawe will work with staff to review the center's core functions, benchmark its operations with peer institutions and incorporate feedback from a 2015 external review.
Grawe earned a bachelor's degree in finance from Iowa State, an MBA in supply chain management from the University of Minnesota and a doctoral degree, also in supply chain management, from the University of Oklahoma. He joined the Business faculty in 2010.