David Spalding, Raisbeck Endowed Dean of the Debbie and Jerry Ivy College of Business, has been reappointed to a five-year term. He has served as dean since August 2013.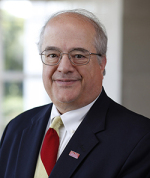 In his first term, Spalding managed record enrollment growth while increasing student and faculty diversity, growing philanthropic support and raising the external visibility of the college across the state and nationally.
"Iowa State's Business college has become a transformative model for engaging students with experiential learning opportunities and preparing students for successful careers," President Wendy Wintersteen said. "David has done an outstanding job leading the college over the last four years, and I look forward to its continued growth."
Senior vice president and provost Jonathan Wickert expressed his thanks for a comprehensive review process to the college's Committee to Review the Dean, chaired by Sree Nilakanta, associate professor of supply chain and information systems. Wickert also noted his appreciation to Business students, faculty and staff who participated in the review process and provided insightful and helpful feedback.
"Leading the Ivy College of Business is the highlight of my career," Spalding said. "I am excited to continue working with faculty, students, staff and our partners to move the college to even greater heights, and to best serve the people of Iowa."
Spalding earned a bachelor's degree in history from Dartmouth College, Hanover, New Hampshire, and an MBA in finance from New York University. He joined the Iowa State faculty in 2013 after serving eight years as senior vice president and senior adviser to the president, as well as vice president for alumni relations, at Dartmouth. He also held positions with Chase Manhattan, First National Bank of Chicago, GE Capital Corporate Finance Group, Lehman Brothers and the Cypress Group, a private equity firm he co-founded.