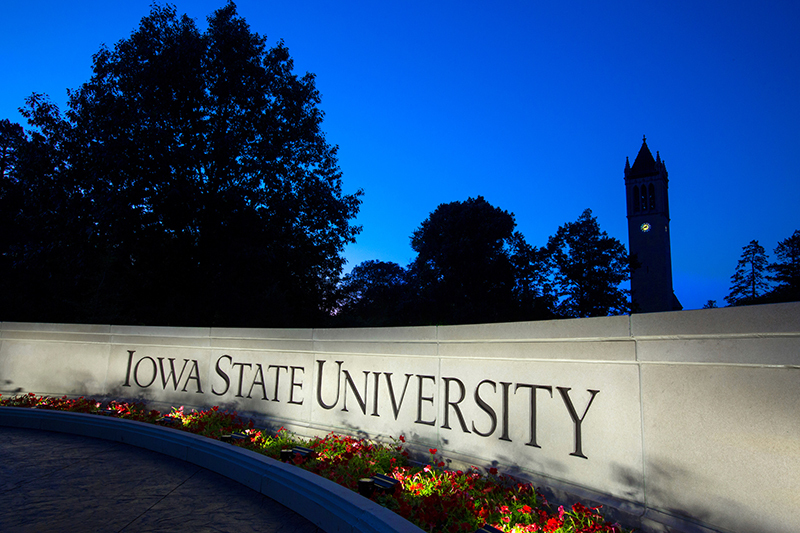 Plenty has been written about Iowa State's spectacular campus, and in his three years on the job, university photographer Christopher Gannon has worked to capture some of that beauty. A new photo system in the office of university relations and contract with an off-campus photo finisher now make it possible for members of the public to purchase prints of many iconic images.
"We've had requests from alumni and friends for high-quality, professional campus images, so we decided to make this service available," Gannon said. Most universities and colleges sell images this way in response to demand, he added.
Two years ago, to better serve the campus community, university relations contracted with PhotoShelter for a digital photo system that has image sharing and archiving functions lacking in the office's previous in-house server. Gannon said currently there are about 140 campus images in an online public gallery, with more added every month. Locations include central campus, Reiman Gardens, Jack Trice Stadium and Lake LaVerne. The gallery's key-word search function works by building or season, for example, "campanile" or "spring."
What are my options?
Shoppers may choose from two color products: prints and canvas gallery wraps -- a canvas print wrapped over a wood frame. They're produced and shipped by a vendor in suburban St. Paul.
Color prints may be purchased in seven sizes -- from 4 inches by 6 inches to 30 inches by 40 inches -- and two finishes, glossy or luster. Prices range from $4 to $250. Canvas gallery wraps range in size from 8 inches by 10 inches to 40 inches by 60 inches and in price from $100 to $650. All products ship directly to the buyer.
Gannon said the print revenue will be shared. The photo finisher, White House Custom Color, receives the cost of making the print or wrap, PhotoShelter receives a commission and university relations will use the rest to recoup part of its annual contract fee with PhotoShelter.
How does it work?
Buying prints or canvas wraps is a self-service process. To make a purchase, shoppers simply click on an image (full size, not thumbnail size) in the gallery.
A shopping cart icon appears in the lower right corner of the window as one of the options.
Click on the cart icon. A "buy this image" window leads to an options window. Select the quantities, sizes and finishes desired.
Shoppers may check out as a guest or set up an account.
Online payment is made via PayPal, where either an account or a debit/credit card are accepted.
Digital options
All images in the gallery also are available in a free, low-resolution (1,200 pixels wide) digital download, suitable for Instagram use, Twitter header or as a small screen saver.
Full-resolution digital downloads, for use in professional products such as posters, pop-up displays or wall decals, are available only to university units for a $25 fee. To request a full-res digital image, email Gannon.
"The intended spirit of these high-res downloads is that colleges or departments will use them to promote their unit," Gannon said.