Joe Colletti, senior associate dean of the College of Agriculture and Life Sciences and associate director of the Iowa Agriculture and Home Economics Experiment Station, has been named the college's interim endowed dean, effective Nov. 20. He also will serve as interim director of the experiment station.
Colletti takes over for Wendy Wintersteen, who becomes Iowa State's 16th president on the same date.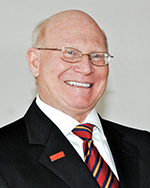 "Joe is familiar with every aspect of the college's mission and operations, and its service to the people of Iowa," President-select Wintersteen said. "He will maintain the strong momentum in our academic and research programs, and work with stakeholders both on and off campus to share our expertise with the world."
In making the appointment, senior vice president and provost Jonathan Wickert noted that Colletti's experience on campus will ensure a smooth transition to the next permanent dean.
"Joe Colletti has a well-deserved reputation for collegiality and service that will help the college and university move forward during a critical time of record enrollments and budget challenges," Wickert said. "I am confident he will do very well in the interim role."
Colletti, who joined Iowa State's forestry faculty in 1978, earned a bachelor's degree in forestry from Humboldt State University, Arcata, California, and master's and Ph.D. degrees in forest economics from the University of Wisconsin, Madison. He was appointed senior associate dean in 2006 after serving as interim chair of the natural resource ecology and management department in 2004-05.
In his current positions, Colletti oversees budgets, resources and personnel for the college and experiment station. He also facilitates bioeconomy-related research, including development of the BioCentury Research Farm.
"It has been a great privilege to watch the college grow in both stature and impact over the last 40 years, and I am humbled by the opportunity to lead the college during the interim period," Colletti said.
Iowa State will launch a national search for the next permanent dean in the coming weeks.