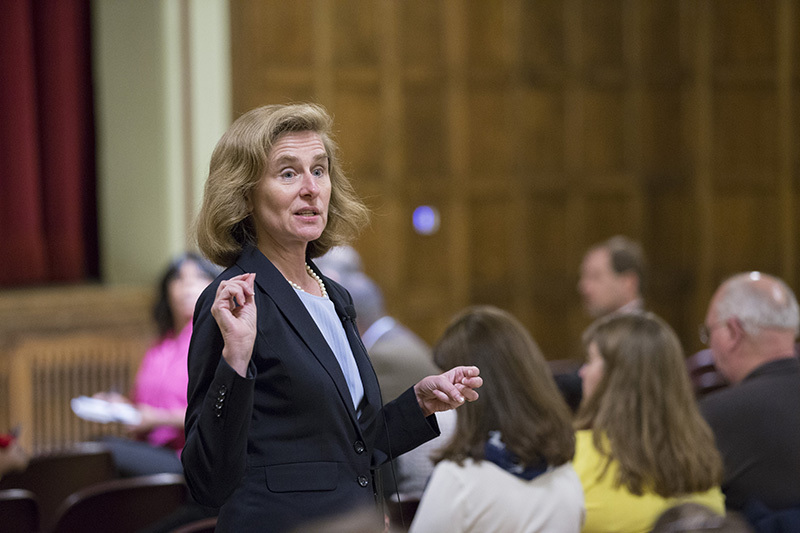 Iowa State is at a critical juncture that demands bold, ambitious goal setting to elevate the university from excellent to exceptional, the University of Georgia provost said in the second of four public forums for Iowa State's presidential finalists.
Speaking in the Memorial Union Great Hall Tuesday, Oct. 10, Pamela Whitten said Iowa State should acknowledge and take pride in what it's already doing well but also reach higher.
"The university is very good, and it's really moved up in a lot of ways, and yet it's at a crossroads," she said.
Finalist forums
Presidential finalists spoke and answered questions at public forums this week. Inside Iowa State's coverage:
Sonny Ramaswamy, director of the National Institute of Food and Agriculture
Dale Whittaker, provost and executive vice president, University of Central Florida
Wendy Wintersteen, dean of the College of Agriculture and Life Sciences, Iowa State (Forum is Thursday from 4-5 p.m. in MU Great Hall. Recap will be posted to Inside Iowa State Oct. 13.)
Whitten outlined specific metrics that would indicate enhanced stature and educational quality. She said Iowa State should aim to:
Lower its faculty-to-student ratio from 19-to-1 to 18-to-1
Increase the six-year graduation rate from 74 percent into the 80th percentile
Increase the four-year graduation rate from 44 percent into the 60th percentile
Increase student retention from 88 percent into the 90th percentile
Grow its endowment, now just shy of $800 million, to well past $1 billion
Citing a desire to be "direct and candid," Whitten said she was concerned about Iowa State's continued inclusion in the American Association of Universities, the prestigious 62-member group of top U.S. and Canadian research universities. "Iowa State needs to do a little bit of work to put itself in a place where it doesn't have to worry about that," she said.
Expanding graduate enrollment, faculty collaboration, economic development and research enterprise should all be goals, Whitten said.
She endorsed a new initiative at Georgia that offers more than 100 programs for simultaneously earning bachelor's and master's degrees as a "large-scale, difference-making" opportunity for students entering a workforce that increasingly requires a master's degree.
After 20 minutes of prepared remarks, Whitten took questions for about 40 minutes. Here's what she said on a handful of topics:
Students
In explaining the motivation for encouraging timely degree completion, Whitten noted extended time in the classroom hurts students by delaying their careers and saddling them with more debt.
"This is important not just because it will make Iowa State look good, this is important because it will address important values and goals for the university, as well," she said.
Given the rising cost of higher education, fundraising for need-based scholarships is a high priority, as is establishing an emergency fund to make sure students don't drop out over a cash shortage of a few hundred dollars.
"We have discovered that's more common than people are willing to admit," she said.
Mental health also is a booming concern for college students, said Whitten, who has an academic background in communication technology in health care.
"It is ramping up so quickly that everyone is struggling, frankly, to keep up with the need across the board," she said.
Funding
Flagging state funding is a challenge for nearly all public universities, Whitten said, and she doubts that will change.
"Creative revenue generation is just part of standard operating procedure for higher education today. We really live in a different time," she said.
An important strategy to create revenue opportunities is to do a better job communicating the university's return on investment and public benefit, she said -- an impact well-known on campuses that over time have become too insular.
"We smiled, and we felt very good about it, but we forgot to make sure everybody else knew about it," she said.
Faculty
Given the sharp increase in Iowa State's enrollment in the last decade, Whitten said it makes sense to "catch our breath now" and study the impact of a much larger student body. Faculty-student ratios might be of particular concern in specific programs, she said.
"It sounds like that's a really significant issue in engineering," she said.
Asked how she would bolster educational quality despite dwindling state support, Whitten acknowledged that tuition at Iowa State is "the lowest I've seen it," though she added she wouldn't take a position on tuition rates without a thorough examination.
Campus climate
Proactive conversations among students, faculty and administrators are key to making a campus welcoming and inclusive, Whitten said.
As a provost, Whitten said she hires two undergraduates to identify and create situations where she can interact with students. As a former resident assistant in a dormitory, she especially likes meeting with RAs, she said.
Programs to assist students who are historically disadvantaged are important, she said, but so is getting the word out about those resources.
"We're such big places, a lot of times there's a lot of noise and we don't even understand all the activities and services that are going on," she said.
Next steps
Members of the Iowa State community are asked to provide the search committee with feedback on the presidential finalists. An online form to assess each candidate is available on the presidential search website. Responses are due by Oct. 16. Archived video of the public forums will be available Thursday night on the search website, after the final forum is held.
The state Board of Regents plans to meet Oct. 23 to interview the finalists and select Iowa State's next president.