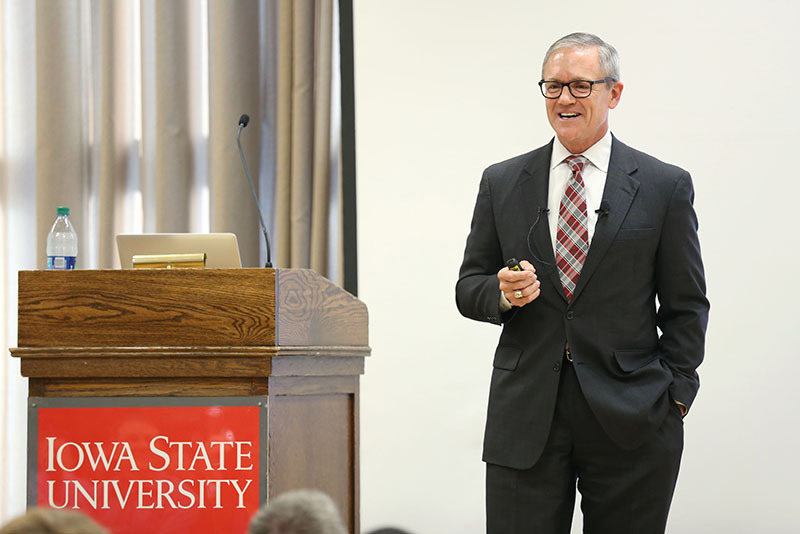 Building on existing strengths, Iowa State should tackle world hunger and improve the availability of its high-quality undergraduate education, the University of Central Florida provost said at the third public forum for Iowa State presidential finalists.
Speaking in the Memorial Union Sun Room Oct. 11, Dale Whittaker laid out a three-prong approach to accelerating Iowa State's excellence, frequently emphasizing the transformative power of higher education.
"When a person gets a college degree it changes things -- for them and for society. It changed it for me. It changed it for my father," he said.
Finalist forums
Presidential finalists spoke and answered questions at public forums this week. Inside Iowa State's coverage:
Sonny Ramaswamy, director of the National Institute of Food and Agriculture
Pamela Whitten, provost and senior vice president, University of Georgia
Wendy Wintersteen, dean of the College of Agriculture and Life Sciences, Iowa State (Forum is Thursday from 4-5 p.m. in MU Great Hall. Recap will be posted to Inside Iowa State Oct. 13.)
One of Whittaker's three broad university goals is ending world hunger and creating a sustainable future, a challenge he said Iowa State is uniquely qualified to take on.
"This is an institution that is better positioned than any institution in the world -- and I say that in a clinical sense, not to schmooze you -- really, truly better positioned than any institution in the world to lead the addressing of hunger," he said.
Though many of its fellow top research universities in the Association of American Universities have paid less attention to undergraduate learning in recent years, Whittaker said Iowa State has "magically" maintained that focus while remaining devoted to research. One of his three aims for Iowa State is to provide the best undergraduate experience of any AAU school.
Unleashing the potential of all Iowans should be another goal, Whittaker said -- meaning he'd like to increase college access for low-income students with no family history of higher education. Eighty percent of children from families in the top 20 percent of income brackets graduate from college, but only 8 percent of children from the lowest 20 percent do, he said.
"That's not an issue about the people. That's not an issue about where talent lies in our society. It's a structural issue," he said.
Whittaker spoke for about 35 minutes before taking questions for about a half hour. Here's what he said on a handful of topics:
Students
At Central Florida, Whittaker said it was a struggle to increase first-year retention rates over 90 percent, despite numerous support programs. To exceed that mark took improvements in the classroom, which meant hiring more professors, he said.
"The role of talent and intellect and passion and drive in a research-based university is so dominant that focusing on our faculty and strengthening faculty becomes a high priority," he said.
Schools are just beginning to realize how often small financial obstacles can derail a college education, Whittaker said. At Central Florida, officials now reach out to students who have course registration holds due to unpaid bills. A program that offers small bridge loans to students also is important, he said.
"It has to be done with compassion, discretion and on an individual basis," he said.
Funding
Whittaker backed the plan proposed by Iowa State leaders to raise tuition 7 percent annually over the next five years to counteract diminishing state funding.
"It's an excellent proposal," he said, though he acknowledged it would shift a greater burden to students' families.
Being a voice for the value of higher education as a whole is the best approach to advocating for greater public investment in Iowa State, Whittaker said.
"I think it's doable, and I've seen it done at other institutions," he said.
Faculty
If a university does work that has impact, reputation and rankings will follow, Whittaker said. Efforts to increase a school's rankings for that sake alone often are short-lived, he said.
Solving problems that matter -- such as world hunger -- takes powerful partners and wide perspectives, making interdisciplinary research essential, Whittaker said.
"In order to do big work and make heavy lifts, at least in my experience, it has never been done alone," said Whittaker, whose academic background is in agricultural engineering.
Wider perspectives are also a natural product of diversity, which leads to better decision-making, he said.
"It's why every company -- every knowledge company -- focuses on diversity," he said.
In Whittaker's three years at Central Florida, the university has hired about 230 new tenure-track faculty. But it also has been careful to keep up with staff positions, hiring 25 professional and scientific employees for every 100 faculty, he said.
Campus climate
Without promoting inclusion, efforts to increase diversity are hollow, Whittaker said. A modern land-grant university must be inclusive, he said.
"Every student, every faculty member, everybody in this institution should know exactly where the leadership of the university stands in terms of inclusion. That means that everybody can learn. Everybody is welcome. Everybody has opportunity. Everybody has a story. Everybody has a gift to offer," he said.
For university leaders, inclusiveness requires engaging and supporting students without marginalizing them, he said.
While campuses must allow divergent ideas to stimulate intellectual growth, they also must have plans and act quickly if they expect speech could lead to violence, he said.
"I believe that at the end of the day, inclusion will always win," Whittaker said.
Next steps
Members of the Iowa State community are asked to provide the search committee with feedback on the presidential finalists. An online form to assess each candidate is available on the presidential search website. Responses are due by Oct. 16. Archived video of the public forums will be available Thursday night on the search website, after the final forum is held.
The state Board of Regents plans to meet Oct. 23 to interview the finalists and select Iowa State's next president.