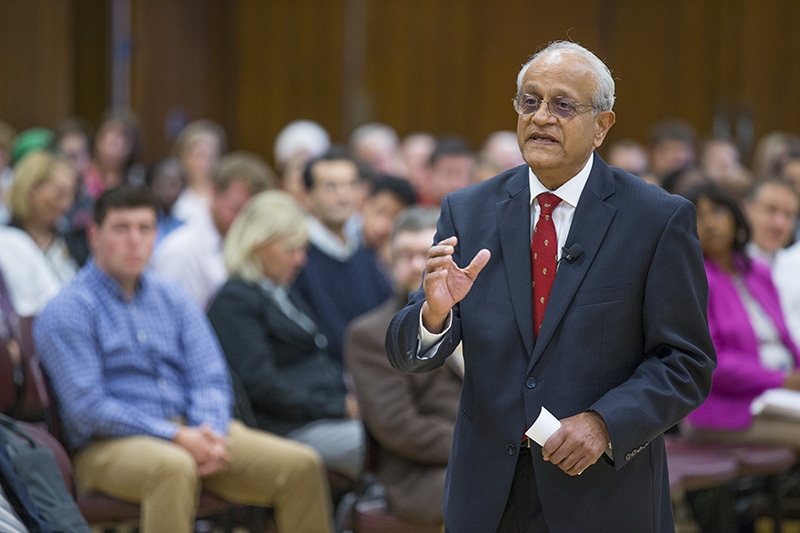 The head of a federal agency responsible for awarding hundreds of millions of dollars in annual agricultural grants touted his appreciation of land-grant ideals, and their wide application, in the first public forum for Iowa State's four presidential finalists.
Speaking Oct. 9 in the Memorial Union Sun Room, Sonny Ramaswamy, director of the National Institute of Food and Agriculture (NIFA), repeatedly highlighted the service mission of land-grant universities such as Iowa State, the main recipients of the federal agricultural research funding his agency administers.
Land-grant status means Iowa State has an obligation to combat obesity, poverty and opioid addiction in Iowa, using science and creativity to improve the human condition, Ramaswamy said. It also means the university must work to improve the Iowa economy and give students a broad-based education that includes the humanities, experiential opportunities like internships, and leadership instruction, he said.
Finalist forums
Presidential finalists spoke and answered questions at public forums this week. Inside Iowa State's coverage:
Pamela Whitten, provost and senior vice president for academic affairs, University of Georgia
Dale Whittaker, provost and executive vice president, University of Central Florida
Wendy Wintersteen, dean, College of Agriculture and Life Sciences, Iowa State (Forum is Thursday, 4-5 p.m. in MU Great Hall. Recap will be posted Oct. 13.)
"The best part of this institution is you're totally unapologetic about being a land-grant university," said Ramaswamy, who has worked at land-grant universities in seven states, most recently as the dean of the agricultural college at Oregon State University, Corvallis.
After opening with a hat tip to the Cyclones for upsetting Oklahoma in football two days earlier, and a joking suggestion that two-way star Joel Lanning might be a fine presidential candidate, Ramaswamy spoke for a half hour and then answered questions for a half hour. Here's what he said on a handful of topics:
Students
Ramaswamy singled out Iowa State's graduation rates as needing improvement. Seventy-four percent of students graduate within six years, but black students, he noted, have a six-year graduation rate of just 45 percent.
"I think, to me, seriously, that's wrong. We've got to collectively come up with a way to make sure that the students are graduating -- on time," he said. An overall 90 percent graduation rate would be a success, he said.
Ramaswamy said he would support leadership education for students, saying he started a similar program earlier in his career.
"In many, many institutions we've been remiss. We've given up on it," he said.
He also mentioned class attendance as an issue worth tracking and recommended adding more online courses and student scholarships.
Funding
Ramaswamy pointed to his experience with federal research grants, as well as fundraising and advocating as a college dean, as demonstrations of his ability to generate revenue. He said the key to convincing legislators, donors and funding agencies to invest in Iowa State is to reiterate a compelling rationale for its benefits.
"I've used the term value proposition over and over. We have to make that value proposition to everybody," he said. That pitch should emphasize the university's purpose, outcomes and preeminence, he said.
At Oregon State and NIFA, Ramaswamy said he managed budget cuts of 20 to 30 percent. In Oregon, he added, he used collaborative meetings with stakeholders across the state to formulate a plan that staved off further possible cuts from legislators.
Faculty
Asked why he'd want to leave his federal post, Ramaswamy said his six-year appointment expires in May, and he'd prefer to return to a campus.
"My heart lies in academia," said Ramaswamy, whose academic background is in entomology.
Iowa State has "a very significant issue" with lagging faculty and staff salaries, and needs to boost investments in facilities such as classrooms and labs, he said.
Asked if he'd commit to hiring administrators with the same process used for faculty and staff, Ramaswamy said he would.
"We've got to make sure we're completely transparent in everything we do," he said.
Campus climate
Responding to questions about how he'd handle controversial research topics and provocative campus speakers, Ramaswamy said universities should be a bastion of inquiry where differing viewpoints are valued.
"We should not shy away from controversial topics just because it's not OK for the rest of the community," he said.
But it's essential to balance speech rights with other rights, he said. Ground rules must be set to avoid violence and obscenity.
Universities sometimes must respond to events in the current political climate, but it's important to be purposeful and thoughtful about it, he said.
"I really like how y'all have done it here, by the way. Take a deep breath. Don't be tweet for tweet. You're never going to win," he said.
Next steps
Members of the Iowa State community are asked to provide the search committee with feedback on the presidential finalists. An online form to assess each candidate is available on the presidential search website. Responses are due by Oct. 16. Archived video of the public forums will be available Thursday night on the search website, after the final forum is held.
The state Board of Regents plans to meet Oct. 23 to interview the finalists and select Iowa State's next president.