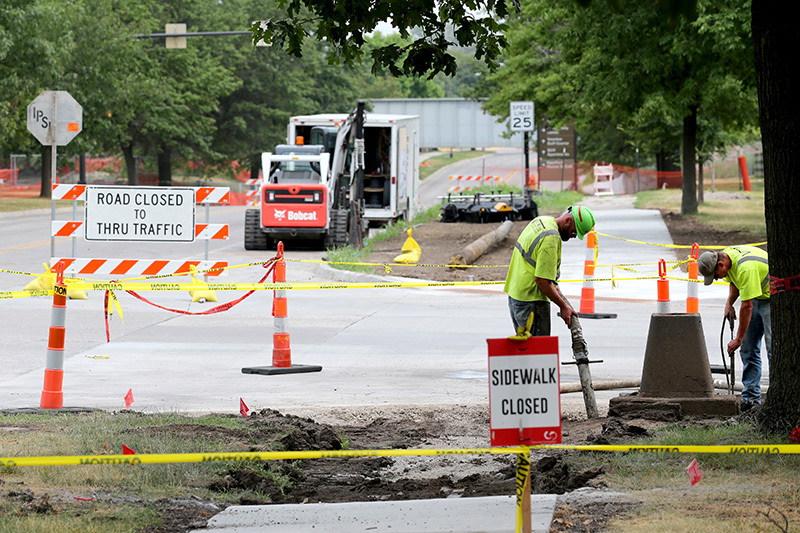 Summer on college campuses typically is tranquil. But with a presidential search underway, buildings rising and falling, and new technology platforms launching, Iowa State was anything but quiet (except for the carillon) this summer. Here's a look at summer 2017 on campus.
New faces
Paul Fuligni became associate vice president for facilities planning and management on July 10. He succeeded Dave Miller, who retired in January.
Vernon Hurte, associate vice president and dean of students, joined Iowa State on July 3. He is responsible for 13 dean of students' units, including the office of international students and scholars.
Deanna Clingan-Fischer became the university's first full-time ombuds officer on Aug. 7. Established in 2008, the ombuds office assists university employees with a variety of workplace challenges.
Jim Reecy, professor of animal science and director of the office of biotechnology, was named associate vice president for research on June 1. He works with faculty and research leaders to develop interdisciplinary research opportunities and supports faculty with their research goals.
Iowa State promoted two professors to academic leadership positions this summer. Bill Graves, professor of horticulture and former Graduate College associate dean, became dean of the Graduate College on July 17. Ann Marie VanDerZanden, professor of horticulture and former director of the Center for Excellence in Learning and Teaching (CELT), was named associate provost for academic affairs on July 19. Both roles were held by Dave Holger, who retired in June.
Sara Marcketti, professor of apparel, events and hospitality management and CELT associate director, was appointed interim director of CELT on July 24.
Surya Mallapragada, Distinguished Professor and Carol Vohs Johnson Chair in chemical and biological engineering, joined the office of the vice president for research on July 1 as a half-time associate vice president for research.
Cory Harms, interim director of procurement services, was named director on Aug. 1.
The search for an assistant vice president for business services was canceled following the identification of three finalists. Senior vice president for university services Kate Gregory is reevaluating the position before a new search. Norm Hill, director of logistics and support services, will continue as interim assistant VP.
Two finalists were named for the new assistant vice president for student health services post. Heather Paris, ISU recreation services, and Caesar Ross, Coastal Carolina University, Conway, South Carolina, participated in open forums on campus earlier this month.
Dave Roepke joined the university relations staff in June as a writer for Inside Iowa State.
Presidential search
A 21-member presidential search committee held listening sessions with groups of Iowa State constituents in June to help determine the necessary characteristics and qualifications for the university's next president. Comments centered around upcoming challenges facing Iowa State, the future president's character and experience, and the strengths of the university and Ames.
The search for a new Iowa State president was launched July 6. Application deadline is Aug. 24. Approximately eight to 12 semifinalists will interview in late September, and finalists are expected on campus for interviews the week of Oct. 9.
University human resources updates
Iowa State launched a comprehensive classification and compensation review for professional and scientific staff early this summer. Employees submitted information about their positions in June using a job profile tool (JPT), followed by manager feedback and executive interviews. The JPT response rate was 76 percent. The review process will continue through fall 2018.
Changes signed into law last February that govern collective bargaining rights for state employees took effect July 1, impacting approximately 1,300 Iowa State merit employees. Key changes include no seniority lists for job transfers, increased emphasis on performance evaluations and an adjustment in overtime calculations. Merit employees also will be phased into the ISU Plan for health benefits beginning Jan. 1, 2018.
Board of Regents decisions
Construction roundup
Information technology changes
IT staff launched a website where the campus community can learn about and track the WorkCyte initiative – a move to university-wide (enterprise) technology platforms.
After months of extensive review, Canvas was selected as Iowa State's new learning management system in June. Canvas replaces the existing Blackboard system, though Blackboard still will be available during fall semester. Canvas will be fully implemented next spring.
Finally, of note