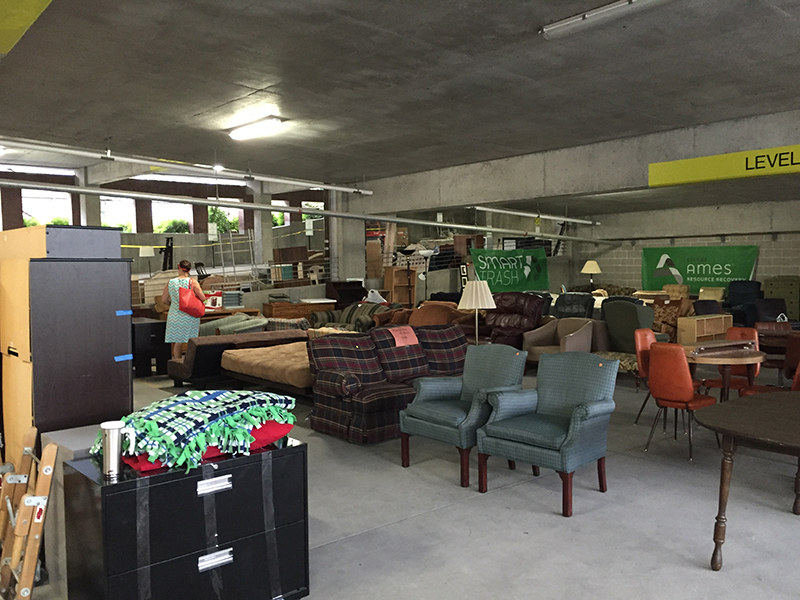 The end of July in a college town can seem like a massive game of rental-unit musical chairs. And with the annual changing of the leases comes the unfortunate leaving of the stuff.
"There's a difference between lawn furniture and furniture on lawns," said Bill Schmitt, superintendent of the Ames Resource Recovery System.
For the second year, Ames and Iowa State are holding a communitywide rummage sale during the traditionally heavy moving days, in an effort to keep usable furniture and other furnishings off curbs and out of landfills.
Rummage RAMPage
Friday, July 28, noon-6 p.m. (collection only)
Saturday, July 29, 8 a.m.-6 p.m. (collection and sales)
Sunday, July 30, noon-6 p.m. (collection and sales)
Monday, July 31, noon-6 p.m. (collection and sales)
Tuesday, Aug. 1, noon-6 p.m. (collection and sales)
Wednesday, Aug. 2, noon-4 p.m. (sales only)
Register online to schedule a pickup time.
The six-day event will be held on the bottom floors of the Ames Intermodal Facility parking ramp, which was filled and emptied numerous times as donations came pouring in during last year's inaugural Rummage RAMPage, said Merry Rankin, Iowa State's sustainability director.
Prices are set low because the goal is to find new homes for unneeded possessions, from just $1 or so for kitchen essentials to $25 for little-worn sofas, Rankin said. The sale raised more than $5,000 in 2016, preventing 22 tons of material from becoming landfill fodder. That included more than 60 couches and 110 chairs, Schmitt said. Only 310 pounds of items collected weren't sold, he said. Proceeds go to the local nonprofits whose volunteers to staff the sale.
"It's really a win-win-win event," Rankin said.
To participate, take donations to the parking ramp starting July 28 from noon to 6 p.m. Sales start the next day. Volunteers also will pick up donations from anyone in the community for $20, or $10 from students. Register online to schedule a pickup. Not all items are accepted for Rummage RAMPage. The focus is furniture, kitchenware and other household items.
The event is patterned after a similar sale Iowa City has held since 2007.
The impact was noticeable last year at the city's trash-taking facility, Schmitt said. The recovery center grinds up certain kinds of garbage to mix with natural gas to burn in the city's power plant. But most items abandoned by renters aren't good fuel, so they're shipped to Boone County's landfill, which takes Story County waste not suitable for the power plant.
Outfitting an apartment cheaply also has a big impact, Rankin said. A group of international students furnished their home for about $200, coming back to the sale a half dozen times.
"You have no idea what this has done. We have more money for groceries," Rankin recalled one of the students telling her.
"There were a lot of wonderful stories," Rankin said.
Other reuse efforts
The rummage sale is one of many ways Iowa State keeps valuable goods from becoming trash. While it takes some effort to direct what's discarded to where it's needed, it pays off, Rankin said.
ISU Surplus, for instance, diverts an estimated 150 tons of material from landfills annually, Rankin said. A division of the university's logistics and support services, ISU Surplus redistributes discarded assets primarily through its weekly sales. ISU departments get first crack at items every Tuesday. There's a public sale on Wednesdays.
Rankin said what doesn't sell is often offered on Iowa Waste Exchange, a statewide material exchange program run by the Iowa Department of Natural Resources. That's how 300-some discarded residence hall curtains ended up providing greenhouse shading for Cherry Glen Learning Farm near Polk City, Rankin said.
Another example is the arrangement the residence department has with Goodwill Industries of Central Iowa and United Way of Story County to collect unwanted food and furnishings from students as they move out of on-campus housing in the spring.
Goodwill collected more than 11 tons of items, and United Way took in more than 900 pounds of food, according to the department of residence.