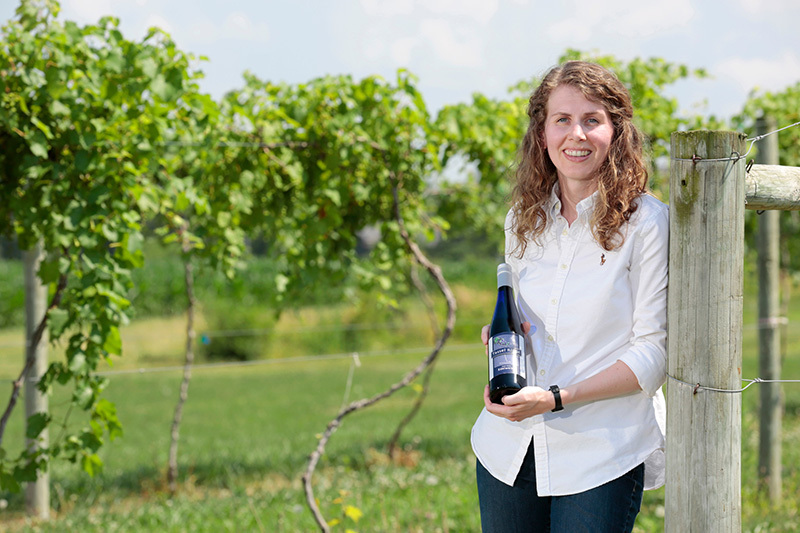 The snobs who can evaluate wine critically -- casually and confidently detecting notes of, say, grass and grapefruit -- probably would thumb their noses at Iowa-made varieties, right?
Wrong and wrong, according to Erin Norton, education and outreach coordinator at Iowa State's Midwest Grape and Wine Industry Institute.
First off, the hybrid grapes that grow in Iowa and other northern climes can produce high-quality wines. Secondly, it doesn't take a know-it-all with a naturally sensitive palate and an air of superiority to appraise a wine's merits.
How to go
Registration: Must register online by July 14
Cost: $50; includes lunch, refreshments and class materials
Time: 9 a.m.-5:30 p.m., check-in at 8:40 a.m.
Date: July 20
Location: 2311 Food Sciences
Later this month, Norton will lead an on-campus workshop that could help wine lovers, even those who don't consider themselves experts, cure both misconceptions.
Participants in the July 20 workshop, a crash course on how to evaluate wine, can apply to help assess Iowa wines as part of the Iowa Quality Wine Consortium.
What's that whiff?
The workshop aims to build a wine palate from the ground up. Participants start by tasting the flavor components of wine – sugar, acid and bitterness – isolated in water. Aroma training begins with wines doped to smell strongly of common scents such as peach or pineapple. Eventually, participants try specific varieties, including grapes grown in Iowa, to learn what flavors and smells to expect from each.
"We just keep building and building and building. They are exhausted, mentally exhausted, by the end of the day," Norton said.
But a nose isn't built in a day. Continued practice is needed, though it doesn't have to involve wine. Norton encourages wannabe wine experts to smell everything, sniffing their way down the grocery aisle even if it draws baffled stares.
"The more times you smell it, the more times it's in your memory, the easier it is to recall," she said.
Taste can only get you so far with wine, which is why smelling is so important.
"When someone describes flavor, they actually are describing an aroma. No one can 'taste' pineapple, they taste only sweet and acid," Norton said.
While descriptions used in the wine world might strike some people as ridiculous, it's mostly a matter of building vocabulary and training the mind to recognize aromas, North said. One tip for palate improvement is tasting blind, she said. That strips away unconscious bias.
"You'd be amazed when you take away the word, the varietal, the doubt that starts going through your brain," she said.
New grapes catching up
Completion of the workshop counts as eligibility to apply to be on the Iowa Quality Wine Consortium's sensory evaluation panels. The IQWC program is run by the Iowa Wine Growers Association, with assessments administered by the wine institute.
Iowa wineries can submit wines for a chemical analysis and an evaluation by a five-judge panel drawn from a pool of about a dozen volunteers. The panelists use a 20-point scoring system to determine the wine's quality. Wines have to average 13 points to pass and be counted as an Iowa Quality wine.
About 450 wines have been assessed through the program, with 80 percent passing, Norton said. Winemakers can tout the "IQ" designation on bottles, though the branding has struggled to get a foothold. But comments from trained and unbiased wine tasters are equally important, said Mike Vincent who, with his wife, Connie, owns Wooden Wheel Vineyard in Keota.
"To get that independent opinion is really valuable," he said.
That's especially true in an emerging, northern wine-growing area. Vineyards have been growing chardonnay for centuries, generation after generation perfecting how they are best fermented into wine. Grapes bred to grow in Iowa are infants by comparison, just five to 10 years old in some cases, so winemakers still are experimenting.
"We're trying to push the industry forward a little bit quicker so we can help figure out what those styles are for these varieties," Norton said. "We've got hundreds of years to catch up on."
For instance, Vincent recently submitted for IQ analysis a wine made from petite pearl, a grape so new it's only had a name for a few years. He is eager to hear what the IQ panelists think.
Norton said the No. 1 misconception she hears about the state's wineries is that they only produce sweet wines. But many also wrongly dismiss the overall quality of Iowa wine, she said.
"I get a lot of, 'Oh, I've been to an Iowa winery. That's not for me,'" she said.
The IQ branding aims to help correct that notion, but Vincent said it hasn't taken off, so far, due to a lack of marketing funding. Vincent, vice president of the Iowa Wine Growers Association, said the group is working on tweaking the program to highlight IQ-designated wines at wineries, where more than 40 percent of Iowa wine was sold in 2016, according to an ISU Extension and Outreach report.
Also, Norton said she is planning a series of shorter wine evaluation workshops for consumers, in part to introduce them to Iowa wines. She challenges Iowa-wine skeptics to come to her workshop.
"I think they would be pleasantly surprised at the quality," she said.
Common wine grapes of Iowa
| | | | |
| --- | --- | --- | --- |
| Grape | For fans of | Smells like | Wine use |
| Frontenac | Merlot | Cherry | Deep-colored rosé, red or ports |
| Catawba | Pink champagne | Strawberries | Sweet white, red, rosé and dessert |
| La Crosse | Chardonnay | Pear, apricot and citrus | Clean whites, often dry or semi-dry |
| St. Croix | Syrah/shiraz | Dried fruit | Medium to full-bodied dry reds |
| Marechal foch | Pinot noir | Earthy and dark berries | Reds from fruity and light to full-bodied |
| Frontenac gris | Peach sangria | Pineapple, apricot, peach and citrus | Table wines to sweet dessert/ice wines |
| La Crescent | Riesling | Apricot, peach and citrus | Germanic types, from off-dry to sweet |
| Seyval blanc | Sauvignon blanc | Grass, hay and melon | Dry, medium-bodied whites to off-dry, tart |
| Brianna | Moscato | Pineapple, citrus and flowers | Balanced, semisweet whites |
| Vidal blanc | Pinot grigio | Grapefruit, pineapple and lemon | Semidry and dry to dessert/ice wines |
| Vignoles | Moscato | Flowers, apricot and tropical fruit | Dry to sweet, late-harvest wines |
| Edelweiss | Gewürztraminer | Candied fruit and Jolly Ranchers | Sweet, aromatic whites |
| Marquette | Zinfandel | Rich leather and cigars | Medium-bodied, semidry reds |
Source: Iowa Wine Growers Association