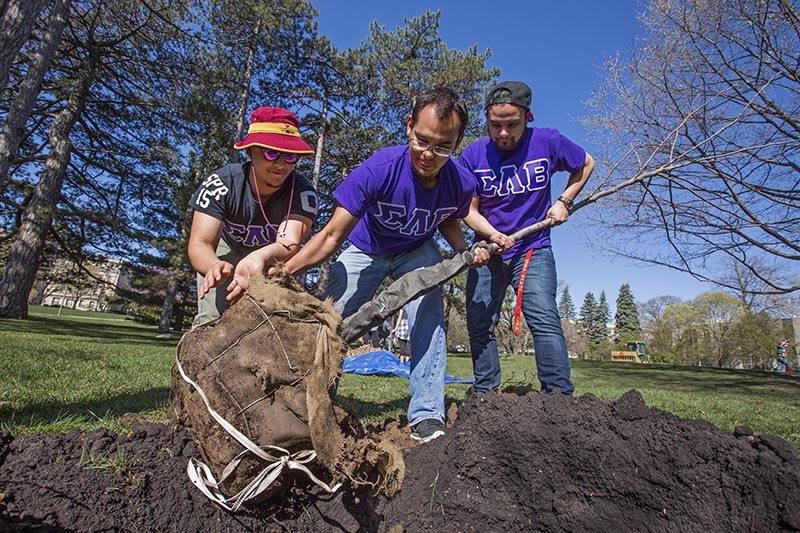 Central campus is adding six rare or endangered trees to its inventory this month. On Monday, students from the Green Umbrella student sustainability organization planted three butternut trees as part of their Earth Month activities. Next week, landscape architecture students will plant three American beech trees to celebrate Arbor Day.
Rhonda Martin, landscape architect in facilities planning and management, said FPM staff select the tree varieties that will be added to the campus canopy.
"While we prefer to plant native species, we also will introduce other species on campus for use in class instruction," Martin said.
She said this week's planting, south of LeBaron Hall and the Border Crossing sculpture, doubles the number of butternut trees on campus. Also known as white walnut trees, about 90 percent of Iowa's butternuts have been killed off by a fungus "canker" disease over the last 40 years. Healthy butternuts can grow up to 60 feet and live more than 80 years.
Next week's planting is west of the Campanile. The Arbor Day event, scheduled for 1 p.m. on April 25, will include a short program in which associate professor and interim landscape architecture chair Carl Rogers will read an Arbor Day proclamation statement. Martin said there are only a handful of American beech trees on campus. They have smooth, silver bark and can grow up to 120 feet and live 80 to 100 years.