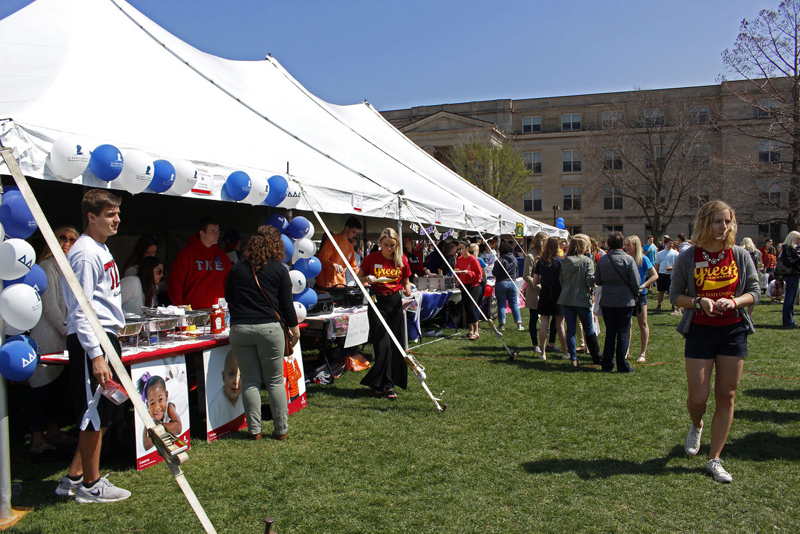 The weather forecast is promising sunshine and warmer temperatures for this Saturday's Cyclone Market, preceding the spring football game, so there's no excuse to stay home.
About 40 student groups will set up shop in tents in the Iowa State Center parking lots north of Jack Trice Stadium on April 8 from 10 a.m. to 1 p.m. Items for sale include jewelry, metal artwork and shirts, among other wares. Bring an appetite, too, because hot dogs, ethnic foods, snacks and baked goods also will be available.
Music will be provided by student radio station KURE and the bands Genre, Winter Guard and Motion Sickness.
This year marks the fourth anniversary of Cyclone Market, created in 2014 by Iowa State's student government to provide student clubs with additional fundraising opportunities. The inaugural event was held on central campus but shifted to the area north of the football stadium last year.
"The move from central campus to the Iowa State Center parking lots has been very positive," said Matthew Scott, one of the event's organizers. "The whole experience feels much more integrated with the spring game, and the crowds like to stop out before entering Jack Trice."
Spring football game
Following the Cyclone Market, the Cyclone football team will take the field at 1 p.m. for its annual intrasquad game. Admission is free.
Besides the game, several events are planned for Cyclone fans, including:
Cyclone Gridiron Club tailgate (11 a.m.-1 p.m., north of Jacobson Athletic Building). Cost is $10 for adults ($5 for students in high school and younger) and free for those who join the club (Pigskin level or higher) at the event. Head football coach Matt Campbell and former Cyclone players will address tailgaters at noon.
Cyclone Experience (12:30-2:30 p.m., Jacobson Plaza, east concourse inside Jack Trice Stadium). Free inflatables and games for young Cyclone fans.
Cy's Locker Room sale (10 a.m.-2 p.m.). Snatch up Cyclone merchandise for as little as $5.
The 2017 football schedule posters also will be available for free at tables on the northeast concourse.
Fans may enter the stadium through gates 1 and 3, beginning at noon. Seating is limited to the east side. Parking is available in Iowa State Center lots A, B, C and D.