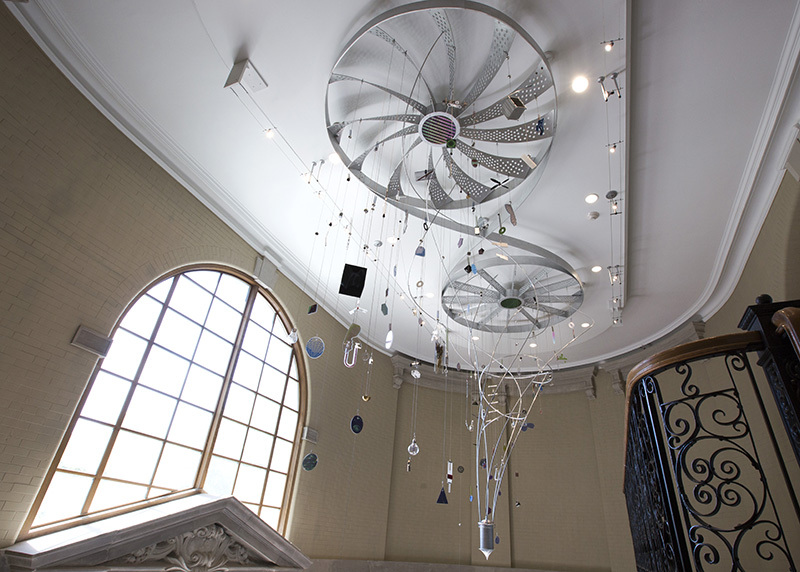 Artist Norie Sato's third and latest campus installation dangles above the east entrance of the College of Engineering's newly reopened Marston Hall. "The Fifth Muse" -- aptly named to complement the four iconic limestone sculptures that grace the facade of the 113-year-old building -- resembles a mobile, with individually designed mixed-media objects suspended from two interconnected wheel-shaped stainless steel pieces.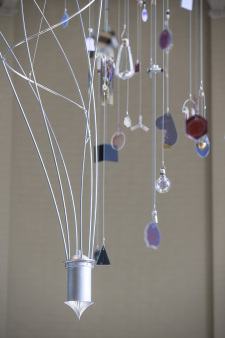 Sato wasn't the only contributor to the artwork, which was fabricated, assembled and installed with the help of the University of Northern Iowa's public art incubator. Iowa State students, faculty and staff helped create pieces of the sculpture -- with many of them produced in campus labs and manufacturing facilities.
Campus contributors include:
Boyd Lab, Sandy Bremer, space coordinator; and Josh DeLarm, teaching lab coordinator (mechanical engineering)
Student Innovation Center Laboratory waterjet cutting service, Rob Hartmann, teaching lab coordinator (agricultural and biosystems engineering)
Rapid Manufacturing and Prototyping Laboratory, Matt Frank, associate professor (industrial and manufacturing systems engineering)
Frank Peters, associate professor (industrial and manufacturing systems engineering)
Make to Innovate (M:2:I), Matthew Nelson, program coordinator; and Christine Nelson, teaching lab associate (aerospace engineering)
Wind Simulation and Testing Laboratory, Andrew Jordan, teaching lab associate (aerospace engineering)
Center for Industrial Research and Service (CIRAS), Chris Hill, program manager
Chemistry glass shop, Trond Forre, scientific glassblower (chemistry department)
Jennifer Nieland, systems support specialist (College of Design)
Tom Bos, graduate student (industrial design)
Frederick Koke, graduate student (mechanical engineering)
Joel Lanus, alum
Christian Wehr, alum
Sato's other campus artworks are located in Hach Hall ("e+l+e+m+e+n+t+a+l") and the Palmer Building ("One, Now All"). "Elements of Wonder," an exhibit of her creative process is on display in the Christian Petersen Art Museum, Morrill Hall, through through Dec. 16. Sato's work also will be featured in University Museums' Oct. 12 Artwalk. Participants should plan to meet at noon in the Palmer Building.