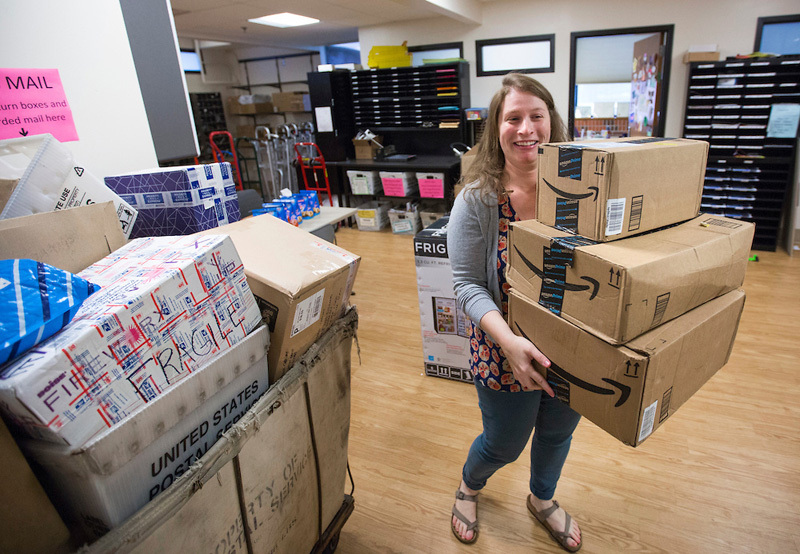 College students receiving packages at school -- whether filled with cookies from Mom or a forgotten sweater from home -- once were rare events. A couple times a semester, students might discover brightly colored slips of paper in their college mailboxes, notifying them of packages awaiting pickup.
Times have changed.
The advent of technology, the convenience of online shopping, plus the lure of free shipping by some companies means more and more packages are stacking up in residence hall mailrooms.
"Students can click on anything they want, whenever they want," said Jennifer Rosen, hall desk supervisor at Maple-Willow-Larch (MWL) residence halls.
By itself, students' predilection for online shopping challenges mailroom staff, but add to it the fact that more students are choosing to live on campus, and that means Iowa State's busy residence hall mailrooms are getting busier every year.
By the numbers
Here's a closer look at the numbers, provided by the department of residence. These statistics don't include students living in university apartments; those packages are delivered directly to the students' assigned mailboxes.
7,430: Students living in residence halls (fall 2015)
110,501: Packages received at campus residence halls during the 2015-16 academic year
6,997: Students living in residence halls (fall 2011)
61,971: Packages received at campus residence halls during the 2011-12 academic year
48,530: Increase in packages shipped to residence hall students from 2011-12 to 2015-16
15: Packages (approximate) per residence hall student received during 2015-16
48: Part-time students and community advisers (CAs) who manage packages in the Maple-Willow-Larch and Union Drive Community Center (UDCC) mailrooms, the two largest on campus. More than 140 CAs work in residence hall mailrooms across campus.
Packages aplenty
Rosen said student perks like free Amazon Prime make online ordering even more enticing. She also noticed a significant rise in the number of boxes from subscription services, like Ipsy and Birchbox, which offer personalized monthly make-up and beauty care products.
"Tons of people order these subscriptions," she said. "It seems like once a student starts getting them, then all their friends want them, too, so we just keep seeing more and more of the same boxes in the mailroom."
Peak periods
Jordan Burkhart, former mailroom supervisor at UDCC, which serves students in Martin, Eaton, Friley and Helser halls, said package deliveries ebb and flow.
"The beginning of each semester we can expect a high amount of traffic -- upwards of 350 packages a day," Burkhart said. "It's usually residents ordering textbooks, things for their new spaces and family sending care packages to start the year."
He said package traffic also significantly picks up the week after Black Friday, two weeks before finals and Valentine's Day week.
On a typical day, MWL receives 60 to 120 packages, and UDCC accepts 70 to 90 deliveries. United Parcel Service (UPS), the United States Postal Service and FedEx deliver most packages.
Working smarter
The department of residence understands the growing demand on residence hall mailrooms. For example, a new electronic package tracking system was implemented a few years ago, and any residence hall renovations or new construction projects yield conversations about increasing mailroom efficiencies. But to serve students effectively right now, employees are working smarter.
"We try to have deliveries at different times," Rosen said. "UPS comes in the morning, the post office comes around lunch time. That gives us time to log everything in before the next truck arrives."
Burkhart said the UDCC mailroom staff has shuffled schedules and assigned more employees to assist students during the busiest times, especially 10 a.m. to 1 p.m., Monday through Friday. Some mailrooms also have extended their hours.
But what if the shoes are too small or the futon is too big to fit through the door? (Yes, MWL has received futons in the mailroom.)
"We don't accept returns," Rosen said. "It's just too much for us to handle." Instead, she and her staff direct students to Copyworks, 104 Welch Ave., which assists with package returns.
No end in sight
Online shopping likely will remain popular well into the future, so what's a mailroom employee to do?
"Moving forward, we will continue to adapt our mailroom spaces and procedures to accommodate the increases," Burkhart said.