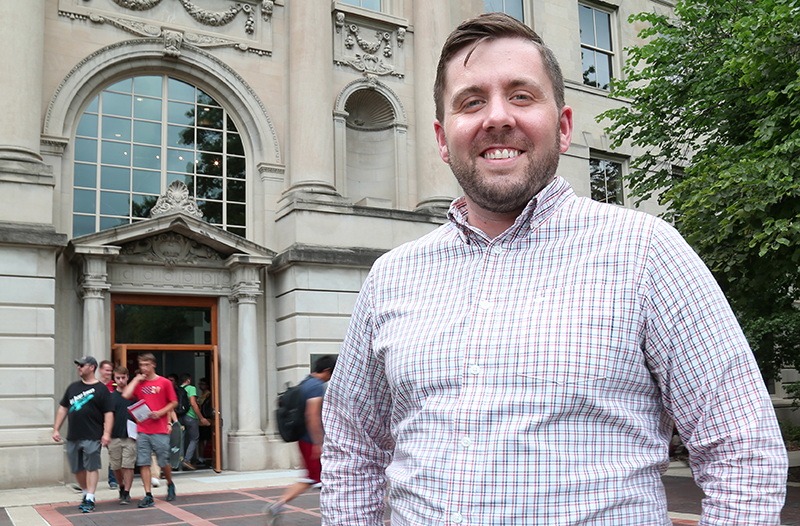 Position: Academic adviser, Engineering student services
Year hired at ISU: 2008
Contact: 294-5493, cjjohn@iastate.edu
Describe your work
I like to describe myself as a campus liaison for students. I'm the first contact for students with questions about classes, primarily, but I can also connect them with campus resources. I also coordinate the learning communities within our office (approximately 450 first-year students). With that, we have upper level peer mentor students (nearly 30).
What one word would you use to describe yourself?
Curious. One of the things I love about working at Iowa State is that we're surrounded by people who are always trying to learn, discover and grow.
What interests do you have outside of work?
My undergraduate degree is in performing arts, so I do a lot of work with local choral and theater organizations. I do a lot of volunteering with those organizations as well.
What strengths do you bring to the council presidency?
I have a long history and knowledge of where we've come from in council. I have good connections around campus and can relate with people easily. I have good communication and people skills -- as an adviser I think that's necessary -- which carries over well to council. I enjoy leading a team and, through that leadership, seeking input and group interactions. Our executive team this year is incredibly strong and knowledgeable -- it's going to be a great guiding force.
What is your top priority?
I really want to be communicative and respectful to our constituents and to recognize that we, as council, are here to serve and be responsive to concerns, issues and questions.
What challenges face the council?
I think a major one is the uncertainty around the new FLSA (Fair Labor Standards Act) requirements. We have a lot of concerns about that already. And, in general, the classification and compensation review that's going to happen -- making sure that P&S staff are represented in that process, which is on a fairly quick timeline.
What would you like to tell the staff you represent?
Professional and Scientific Council is here to serve as an advocate and a representative for P&S staff -- so use us! Talk to your representative, talk to me. We're here to help.