The university's 2016 Iowa State Fair exhibit will showcase "Your Beautiful Adventure," a partnership between university marketing and university museums. Eight works of art will be relocated to ISU's space in the northeast corner of the Varied Industries Building, and 20 portraits will be added during the fair, which runs Aug. 11-21.
Featured art from university museums' Art on Campus collection include a newly fabricated G-Nome, one of four that will replace the figures atop the Molecular Biology Building this fall, and the red metal Solo sculpture from the Anderson Sculpture Garden. Small-scale models of other campus public art also will be featured in the exhibit, open 9 a.m. to 9 p.m. daily.
"The exhibit will offer visitors a glimpse of what our beautiful campus is all about -- the art, the landscaping and the architecture," said university marketing director Carole Custer. "It will be like a walk through campus, with green carpet underfoot like a lawn."
Artist at work
Visitors can experience art in the making while Iowa artist Rose Frantzen paints portraits on site -- two daily, with the exception of Wednesday, Aug. 17. Frantzen's work has been featured nationally, including an exhibit of her Portrait of Maquoketa project at the Smithsonian's National Portrait Gallery. The state fair subjects, chosen by ISU's colleges and select units, will sit (for about four hours) as Frantzen paints. The finished portraits then become part of the state fair exhibit.
Custer said the exhibit will use ISU's award-winning campus as a backdrop. A photo station will offer visitors a virtual trip to campus. Using their smartphones, visitors can take pictures of themselves in front of one of six campus scenes. They also can post their photos on social media sites using #Beautiful Adventure.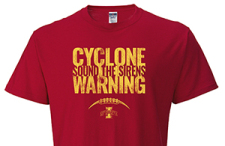 More than 120 faculty and staff volunteers will distribute Cyclone football posters and apply tattoos. Athletics trophies will be on display and daily drawings for Cyclone events and behind-the-scenes guided tours of university museums sites will be awarded. University museums' book, "Campus Beautiful," also will be available for purchase ($100) and free post-fair delivery.
A portion of the exhibit space will house cardinal and gold merchandise offered by the University Book Store. Football gameday T-shirts will be available for $10 each, and fans can find discounts in the Cy's Deals section.
Student art
Student artists
Taylor Carlson, graduate student, integrated visual arts
Michael Day, senior, industrial design
Seth Karp, senior, biological/premedical illustration
Brice Voss, senior, industrial design
Nathan West, senior, integrated studio arts
Five students from the College of Design -- two per day throughout the fair -- will set up easels at event locations throughout the fairgrounds to draw the people, places and things that capture the essence of the state fair. The project, "Artists Next Door," is interactive and encourages fairgoers to talk with the student artists as they work. Students will be identifiable by their cardinal and goal T-shirts and nametags. The drawings -- done in charcoal, pen and marker -- will be displayed as part of ISU Extension and Outreach's exhibit in the 4-H Exhibits Building.
ISU Extension and Outreach
Thousands of 4-H youth will present their entries in the 4-H Exhibits Building and livestock arenas. Students who are high school age also are eligible for ISU scholarships that will be awarded by the Agriculture and Life Sciences, Liberal Arts and Sciences, and Business colleges.
Extension and outreach also is involved in these state fair features:
Iowa State Fair Food Finder app, available in the iTunes and Google Play stores
Master Gardeners' Discovery Garden
The Wine Experience at Grandfather's Barn
Conservation Station in Ruan Plaza
Weed identification contest, open to the public (9-11:30 a.m., Friday, Aug. 12)
Appearances: VP Cathann Kress as a celebrity chef with the Iowa Pork Producers (11 a.m.- 1 p.m., Friday, Aug. 12); and 4-H youth development program leader John-Paul Chaisson-Cardenas as a speaker on the MidAmerican Energy Stage (2 p.m., Saturday, Aug. 13)
All about the animals
Volunteers from the College of Veterinary Medicine -- a mix of about 20 students and faculty -- will help with the state fair's youth vet camps. The program, available for kids 10 and up, offers hands-on experience with animal care. Camp registration is required and limited to 30 youth per session.
Dr. Kelly Still Brooks, a clinician in veterinary diagnostic and production animal medicine, is the state fair veterinarian and will oversee the health of all exhibit and special event animals. She'll be assisted by assistant professor Troy Brick and Vet Med students.