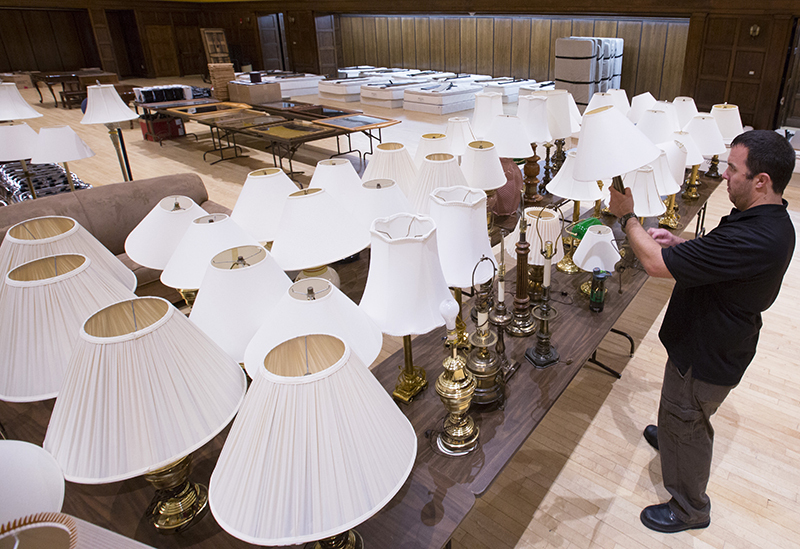 Hoping to pick up a bit of Iowa State history? The contents of the Hotel Memorial Union's remaining 29 guest rooms will be sold at a public garage sale on Thursday, July 14 (4:30-7 p.m., MU Great Hall). Buyers are asked to make arrangements to move their purchases out of the building by 9 p.m. that evening.
As first announced in April, the Hotel Memorial Union ceased operations on July 1. Beginning next month, the residence department will operate the top three floors of the Memorial Union as student housing, in response to the high demand for on-campus housing.
What's for sale?
Imagine a hotel room and, with the exception of the telephone and television, nearly every item that furnishes it will be sold. The sale will include king and queen bed sets that were purchased in 2015 and are in excellent condition. Buy the bedframe, and the mattress and box spring comes with it.
The list also includes night stands, five twin-size roll-away beds, dressers, desks and desk chairs, end tables, sofa tables, framed mirrors, wingback chairs and several sofa beds. It includes table and floor lamps, four-cup coffee makers, irons, ironing boards, hair dryers, ice buckets, small trash cans, foldable luggage stands and clock radios. The list includes bed pillows, bath towels and bedding: comforters, blankets and sheets. Included in the sale are a few random items such as Graco Pack 'n Plays, shower stall bench, several box fans and a residential dishwasher. Pieces range in age from six months to 60 years or more.
Sale terms
ISU Surplus is conducting the sale for the Memorial Union. This is a liquidation sale and all items will be priced to sell; large items will have tags that buyers tear off to make their purchases. Buyers must pay by cash or check; credit cards will not be accepted.
No sale preview is scheduled and shoppers are asked to not queue up outside the Great Hall prior to 3 p.m. the day of the sale. Parking is available in the MU ramp (Lincoln Way entrance is open), and the semicircle drive on the west side of the Memorial Union will be reserved for sale pickups.