He's worked on campus for a half century. He's been involved in everything from selling a television station to deciding whether the blizzard warrants a snow day. We think we know Warren Madden pretty well. Or do we? Here are a few snapshots from the legendary senior VP, who will retire at the end of the month.

Why Iowa State?
Madden and his high school buddy both wanted to be engineers. The friend's father recommended his alma mater, Iowa State, and the Chicago-area youths liked the idea of getting a little farther from home than Urbana-Champaign. They arrived on campus in the fall of 1957, and Madden received his degree in industrial engineering four years later.
Some breakfasts can be too interesting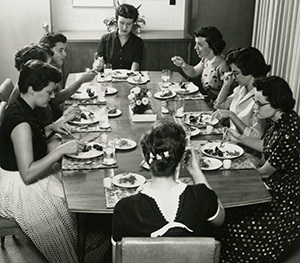 During his final two undergrad quarters (1960-61), Madden lived in the home management house with his spouse Bev, the residence adviser, and eight home economics seniors enrolled in the capstone course that included planning and cooking meals. The young cooks disliked serving the same thing twice, and once they had run through eggs and other typical breakfast fare, they started preparing cream cheese dishes and "more interesting things." Madden soon decided to permanently skip the morning sit-down and start his day in their basement apartment with cereal and toast.
Career path
With a newly minted ISU degree, Madden took a job with Minnesota Mining and Manufacturing, later to become 3M. The job carried him from the Twin Cities to Pennsylvania and then to the Chicago area, where he fit an MBA from the University of Chicago (1965) into his busy routine. He'd been accepted into law school in 1966 when a call came from one of his former Iowa State mentors -- Wayne Moore, vice president for business and finance -- who persuaded Madden to take the university's contracts and grants officer post. Madden returned for what he anticipated would be a two-year stint.
Break time, in the vault
Visitors to the treasurer's office in Beardshear still can catch a glimpse, in the corner, of the old walk-in vault -- a relic of a time when many students paid tuition and fees in cash. In addition to cash, the vault held other valuables in the mid-60s, such as the home economics college's silver serving pieces, and treasurer's office staff ... on break.
"That's where we went to drink coffee and solve all the problems," Madden said.
Vault halt
In 1988, during treasurer Joan Piscitello's first week on the job, she confronted a half-dozen or so coffee drinkers in the vault.
"What are you doing in here?" she asked, then invited the group to her office instead. She didn't realize her boss (Madden), who was away that day, was a regular among the vault crowd.
Iowa Staters who shaped him


Across five decades and seven presidencies, Madden said he feels fortunate to have worked with and for lots of special people. "I've had great mentors, great relationships. I was part of what I think was a very unique administrative team in those early years. People like [vice presidents] Wayne Moore and Carl Hamilton were great people and mentors. Carl would give you pretty good advice."
He said all the presidents he worked for were "the right person for Iowa State at the point in time they were serving.
"Certainly, people like President [Robert] Parks I owe more to. He gave me the chance to become a vice president," Madden noted.
Special places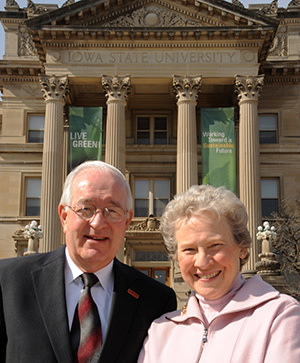 Madden's favorite spots on campus are the campanile ("I'm probably one of the few people I know who've campaniled both under the campanile and at the top") and Beardshear Hall ("I've had an office in that building for 50 years.").
In the early 2000s, the Maddens donated a large portion of the funds that lent the glow (gold leaf) to the dome of the Beardshear rotunda. "I get to walk into that building everyday. I get to see that rotunda. And every fall, I see this mass of new freshmen coming in, getting their ID cards."
Helping illegal parkers succeed
When a former Iowa State Daily sports writer, who'd racked up about a thousand dollars in parking fines, realized he couldn't register for fall classes unless he cleared the debt, "he and I worked out a deal," Madden said.
"He'd paint light poles for the summer. Each pole was about 50 bucks of his fine. We gave him a ladder, a bucket of paint and a brush, and every afternoon, through most of July, he was out painting. You get satisfaction out of seeing students learn some lessons and go on to success."
A few red ties in Kinnick
While Madden is a constant fan at Cyclone home events, one of his favorite athletic memories comes from the Hawkeyes' Kinnick Stadium in the fall of 1998. President Martin Jischke and he were invited to watch the game from the president's box in the stadium press tower.
"There were maybe three or four of us who were Iowa State fans in that mass of football fans," he recalled. "It was becoming increasingly clear as the game went on that Iowa State was going to win. It was the first time in 16 years Iowa State beat Iowa in football." [The Cyclones prevailed 27-9 and launched a string of five consecutive victories.]
Retirement reception
4-7 p.m., Friday, June 24, Scheman Building
Program at 4 p.m., Benton Auditorium
Reception follows, Brunnier Art Museum and 2nd floor lobby
At work in aisle four
As a 3M employee in his early years, Madden worked in one Chicago area suburb and lived in another 20 miles away. His personal and professional lives were separate. In Ames, those lives are inextricably linked.
"I kid people, but I'm being partly serious, that I get half my work done on Sunday mornings in grocery store aisles, because the reality is you see people, you talk with people and you interact.
"My worlds do collide and Bev and I have enjoyed that. We show up at lots of community events. Is that work or is it social or is it entertainment? It's a little bit of all of the above and, for us, it's been a great fit."
Navigating a gray world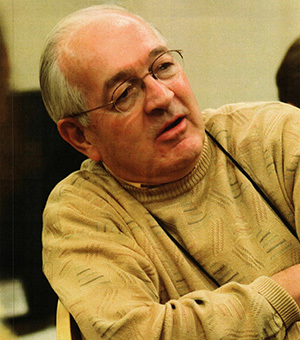 Besides guidance from thoughtful, generous mentors, Madden credits his success and longevity to accepting that the world is not all black or white. "There's a lot of gray and, overall, I've been able to work in a gray world fairly well.
"Most of the issues you have, there's usually more than one way to deal with them, so you try and figure out the best way. All my decisions probably haven't been the right ones," he said.
"I try to not internalize things and go on. One of the things I've probably done a fairly good job of in my 50 years is to continue to adapt and accommodate."
Observing from off campus
Madden shared this message with Iowa State faculty and staff: "This is a great university with great faculty, staff and great students. Iowa State is a very special place, and I hope they get to experience many of the kinds of circumstances Bev and I have over this long period of time.
"We plan to stay in Ames and be engaged. So I hope to be able to watch Iowa State continue to evolve, develop and grow."
Related stories
Save the date, April 28, 2016
Cyclone nation ovation, Feb. 4, 2016