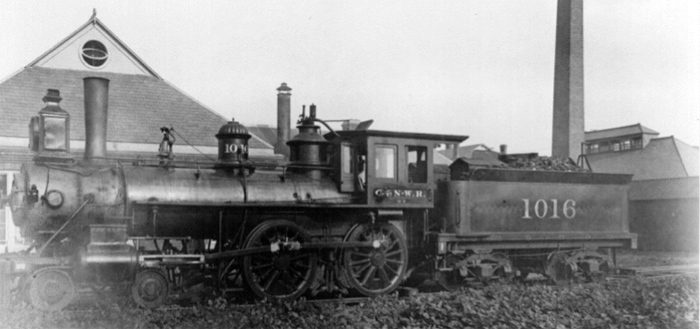 Burn coal
to make steam
to spin steam engines
to generate electricity.
That's what power plants were supposed to do in the 19th century. Engineering professor George Bissell set the bar higher when he designed the mechanical systems for Iowa State's first power plant. When it opened in 1891, the plant, just north of Engineering Hall (today's Lab of Mechanics) supplied Engineering not only with electricity, but heat.
At traditional plants, "waste steam" was released into the atmosphere. At Iowa State, that steam was reused to help heat Engineering Hall and that bit of recycling significantly increased power plant efficiency. When a power plant generates both power and heat, it's called "cogeneration." Thomas Edison pioneered cogeneration in the world's first central power plant in 1882 at Pearl Street Station in Manhattan.
The popularity of cogeneration waxed and waned over the years. But Iowa State never lost faith in the efficient process and, this year, the campus marks 125 years of cogenerated power.
Open house April 21
Facilities planning and management's utility services department will observe the milestone with an open house Thursday, April 21 (1-4 p.m.), at the power plant (616 Beach Rd.). The event includes a 2 p.m. presentation, tours and refreshments.
"We hope many in the university community will join us to celebrate cogeneration, which is as good an idea today as it was 125 years ago," said Jeff Witt, director of utilities. "With new technologies, cogeneration is more efficient than ever.
It still works
"The efficiency of Iowa State's cogeneration plant was 60 percent in 2015 as compared to 33 percent for a conventional power plant," he added. "Iowa State traditionally used coal in its boilers, but has just completed a project to convert a portion of the plant to natural gas. Plant capacity is now 60 percent natural gas and 40 percent coal, and plant operators can select fuels to minimize the cost of energy for the campus."
Historical moments
Following are a few historical moments in the evolution of Iowa State's utility services.
Package from Edison
In 1880, Thomas Edison sent his "electric lamps" to Iowa State physics professor J. K. Macomber for lab demonstrations. A decade later, Edison lights blazed in many west campus buildings and electric loads were outpacing supply.
Nary an angry tweet
The first known Iowa State power outage was 1892, when a boiler in the power plant ruptured a tube. The college was without electricity for several days.
We'd call it DOFLI
In the early years, the facilities department was the Department of Fires, Lights and Incidentals.
Shovels and muscles
Coal rolled into campus on the Ames and College Railway, constructed in 1891. Everything else had to be done by hand. Workers unloaded the coal into wheelbarrows, wheeled it into the plant, dumped it onto the floor and shoveled it into boilers.
Reliable water, future landmark
The campus water system in the 19th century was an untidy collection of springs, cisterns and shallow wells, many of which failed during droughts. Reliable water arrived in 1897 with civil engineering professor Anson Marston's 168-foot tower and a 2,200-foot well. The tower remained in operation until 1978, when the university switched to city water.
First tunnel
The first steam tunnel, a 460-foot-long brick structure from the power station to the new engineering building -- Marston Hall -- was installed in 1902-03. Marston was the first campus building without its own heating boiler. Today, Iowa State has 4.8 miles of tunnels and 2.5 miles of direct-buried steam and condensate lines to deliver steam to the campus buildings and return the condensed steam back to the power plant to be used again.
Time to retire the boilers
Old Main, located where Beardshear Hall stands, was destroyed in 1902 by a fire that appeared to have started in the boiler area. Officials agreed that the university needed a new, larger power station that could supply steam heat to all campus buildings (boilers could be abandoned) and meet ever-increasing electricity needs.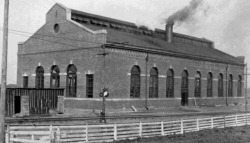 Power structure moves
The first phase of the central heating plant was erected in 1907 on the east edge of campus, where the current power plant stands. The original brick structure, with arched windows and a gable roof, has long since been replaced with a century's worth of remodels and equipment installations.
Footnote in a war
A yellowed memo (May 1943), now part of the campus utility systems history scrapbook, notes increased electric power consumption in the Chemistry Building Annex. The memo, from assistant superintendent of buildings and grounds Ben Schaefer to President Charles Friley, attributed kilowatt-hour increases to "special research," better known now as the Manhattan Project.
The 60s were cool
In 1968, a chiller (which uses steam to produce to cold water) was installed in the power plant. At that point, Iowa State could provide all the heating, cooling and electricity needs of the university through cogeneration, or "trigeneration," as it's sometimes called.