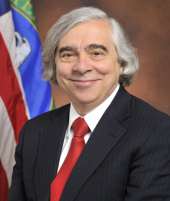 U.S. Secretary of Energy Ernest Moniz ("Moan-EEZ") will give the address at Iowa State's spring undergraduate commencement ceremony on Saturday, May 7. The ceremony begins at 1:30 p.m. in Hilton Coliseum and the public is welcome. The ceremony will be live-streamed on the registrar's website.
Moniz, a nuclear physicist, has led the federal Department of Energy (DOE) since May 2013, following a unanimous confirmation vote by the U.S. Senate. As Energy Secretary, he is tasked with advancing President Obama's "all-of-the-above" energy strategy -- to reduce the threat caused by the proliferation of nuclear weapons, promote American leadership in clean energy technology, clean up the legacy of the Cold War and strengthen energy management and performance. For example, last year Moniz and his Iranian counterpart negotiated technical aspects of the agreement that led to a rollback of Iran's nuclear program.
Previously, Moniz served for more than 40 years on the physics faculty at the Massachusetts Institute of Technology (MIT), Cambridge. Prior to his appointment as Energy Secretary, he was the Cecil and Ida Green Professor of Physics and Engineering Systems at MIT. Much of his research is in theoretical nuclear physics and in energy technology and policy studies.
Moniz served as founding director of the MIT Energy Initiative and director of the Laboratory for Energy and the Environment, leading multidisciplinary studies on nuclear power, coal, nuclear fuel cycles, natural gas and solar energy in a low-carbon world. His time at MIT also included stints as head of the Bates Linear Accelerator Center and the physics department.
Moniz's appointment in the Obama administration is not his first national service. During the Clinton administration, he served as associate director for science in the Office of Science and Technology Policy (1995-97) and as under secretary of the Department of Energy (1997-2001).
Moniz is a founding member of the Cyprus Institute, since 2005 an international, nonprofit group of cross-disciplinary research centers that focus on issues of global significance.
He is a fellow of the American Association for the Advancement of Science, the American Academy of Arts and Sciences, the Humboldt Foundation and the American Physical Society. A native of Fall River, Massachusetts, Moniz received a bachelor's degree in physics from Boston College and a doctoral degree in theoretical physics from Stanford University.
Moniz also will help dedicate the DOE Ames Laboratory's new $9.9 million Sensitive Instrument Facility at the Applied Sciences complex on Friday, May 6.
Reminder: Commencement schedule tweaked
As first announced in January, several changes to commencement weekend will be implemented this spring to improve the experience for families. The key ones are:
Four of the six undergraduate colleges have assigned times in Hilton Coliseum Friday afternoon, evening or Saturday morning for their college events
The Graduate College ceremony will move to Thursday evening (from Friday)
Final exams will end at noon on Friday
Graduation traditions – for example, caps and gowns, conferring of degrees or a keynote speaker – that over time had crept into the college events will be reserved for the university-wide ceremonies